A California state prison board has recommended parole for the youngest member of the Charles Manson killer family — but the daughter of her murder victims has vowed to battle her release.
Leslie Van Houton was just 19 when she went on a killing spree with the Charles Manson "family" in 1969 the day after other members brutally murdered pregnant actress Sharon Tate and four others, including coffee heiress Abigail Folger. Van Houten accompanied the crew the following night to the Los Angeles suburban home of Leno and Rosemary LaBianca.
Van Houten and another woman held down Rosemary LaBianca as Charles "Tex" Watson stabbed Leno LaBianca. After Watson stabbed Rosemary LaBianca, he handed the knife to Van Houten, who testified to stabbing Rosemary at least 14 more times.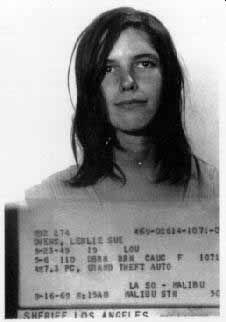 Van Houten, sentenced to life in prison, has been denied parole 20 times.
Cory LaBianca, who was 21 years old when her father and stepmother were slain, plans to lobby Governor Jerry Brown, who will have the final say in Van Houten's release, to keep the killer behind bars.
"Maybe Leslie Van Houten has been a model prisoner," LaBianca told the Los Angeles Times. "But you know what, we still suffer our loss. My father will never be paroled. My stepmother will never get her life back. There's no way I can agree with the ruling today. I don't seek revenge. I just think it's just for someone to do that to stay in prison."
Sharon Tate's sister, Debra, has started an online petition opposing parole for Van Houten, saying she failed to show remorse for years after the crimes and cannot be trusted, according to the Houston Chronicle.
Van Houten, 66, has been portrayed by supporters as the least blameworthy member of the crazed group, and a misguided teen at the time under the influence of LSD on the night of the killings. The former homecoming queen had nothing to do with the killings of Tate, the wife of film director Roman Polanski, and the others at the Benedict Canyon home that the actress was renting.
But she did participate in the LaBianca bloodbath. The blood of the victims was used to scrawl messages on the walls including "Death to pigs," the same way it was used the previous night at Tate's home. The word "war" was carved into Leno LaBianca's stomach.
Van Houten's attorneys have characterised her in her various bids for parole as a model inmate who has obtained a college degree and has been active in self-help groups.
"The opposition to parole has always been the name Manson," said her attorney Rich Pfeiffer. "A lot of people who oppose parole don't know anything about Leslie's conduct. Her role was bad. Everyone's was. But they don't know what she's done since then and all of the good she's done."
At a 2002 parole board hearing, Van Houten said she was "deeply ashamed" of what she had done. "I take very seriously not just the murders, but what made me make myself available to someone like Manson," she said.
This time she described how she helped secure a pillow over the head of Rosemary La Bianca with a lamp cord and held her down as she was stabbed. "I don't let myself off the hook. I don't find parts in any of this that makes me feel the slightest bit good about myself," she told the parole board panel.
Parole Board Commissioner Ali Zarrinnam told Van Houten near the end of the latest parole hearing on 14 April: "Your behavior in prison speaks for itself: 46 years and not a single serious rule violation."
Charles Manson and other members of his so-called family were convicted of killing seven people over the course of a two-night rampage. Prosecutors said Manson and his followers were trying to incite a race war that he believed was prophesised in the Beatles' song Helter Skelter.
Manson, 80, is serving several life sentences in a California prison. He ditched marriage plans in 2015 with a 27-year-old woman after he discovered she planned to put his corpse on display after his death to make money.
On 2015 a parole board recommended parole for Manson associate Bruce Davis, who was sentenced to life in prison for the 1969 killings of musician Gary Hinman and stuntman Donald "Shorty" Shea. He was not involved in the killings of the LaBiancas, Tate and four others.
But Governor Brown rejected parole for the 73-year-old killer, stating: "Davis' own actions demonstrate that he had fully bought into the depraved Manson family beliefs."
Brown said in his rejection parole for Davis on a previous occasion: "The exceptional brutality of these crimes and the terror the Manson Family inflicted on the Los Angeles community 45 years ago still resonate."