Former Thomas Cook boss Harriet Green will donate one third of her forthcoming share award to a charity chosen by the parents of two children who died of carbon monoxide poisoning in one of its hotels Corfu in 2006.
"I have now reached out to the parents of Bobby and Christi Shepherd," she told Reuters.
"On the basis that Thomas Cook are due to give me seven million shares in July, I have told the parents that I will donate one third of that seven million to a charity of their choice."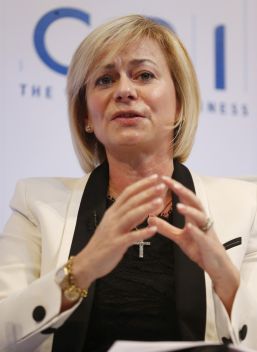 The holiday firm was condemned for winning £3m ($4.6m) in compensation over the deaths of Bobby, six, and Christi, seven, at the Louis Corcyra Beach Hotel. The parents received only £350,000 in compensation.
Green quit in November 2014 after two years leading Thomas Cook and had been set to collect seven million of its shares – worth £1.47 each – under a pay deal struck in 2012.
However, there's since been pressure to review her £10.5m payout amid mounting criticism over the group's handling of the tragedy.
Business leaders heaped criticism on the company with influential business group the Institute of Directors (IoD) saying "those of us who champion business need to be critical when companies mess up".
Consumers have threatened to boycott Thomas Cook, and leading parents' website Mumsnet removed its adverts after a backlash.
Meanwhile, the current chief executive of Thomas Cook has apologised to the family of two children who died while on holiday at one of their hotels in Corfu.
Peter Fankhauser said he was "deeply sorry" for the deaths of Christi and Bobby.
Speaking to the BBC, the chief executive said: "It is clear that there are things that we as a company could have done better in the past nine years. In particular the way we conducted our relationship with the family and this is something that we are going to change."
"I'm not going to communicate in public about what we are going to do. The company since nine years in this relation did mistakes. We are sorry for that so we want not to do the same mistakes. We want to help the family to move on and that is it.
"I don't want to repeat the mistakes the company did in the past. My intention is to see how they can move forward with their lives. I'm sorry about what they have had to go through. I'm personally sorry as a father myself."