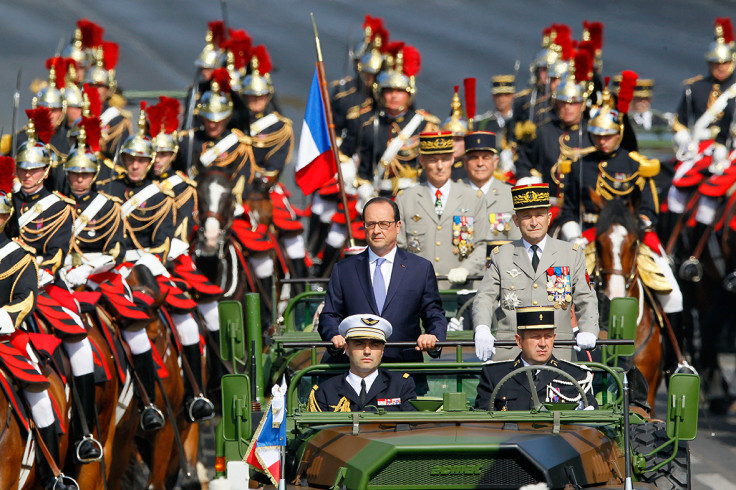 French police have foiled a jihadist attack on a military installation in the country, Interior Minister Bernard Cazeneuve has said.
Security forces detained four suspects, aged between 16 and 23, in the early hours of 13 July, Le Monde reported. One of them is a former naval recruit.
The four were allegedly plotting an attack on a military site in southern France in January 2016 and planned to behead an unspecified high-ranking officer.
Cazeneuve said police uncovered the plot by tracking the individuals' online activities. One of the suspects reportedly made plans to travel to Syria.
"At the [Bastille Day, 14 July] ceremony, the president [Francois Hollande] reminded us that every week we prevent... terrorist acts," the interior minister was quoted as saying by Reuters.
"That was once again the case this week."
France has been on high alert since 17 people were killed by jihadists in Paris in January.
Last month, a 35-year-old with links to Islamic State (Isis) beheaded his boss at a gas factory in Lyon. There are an estimated 1,200 French nationals involved in extremist fighting in Syria and Iraq.
Cazeneuve said there were no links between the suspects and the two explosions that went off near a petrochemical plant in southern France on 14 July.
The explosions at Berre L'Etang went off simultaneously at a site owned by the multinational company LyondellBasell, causing fires that burned for hours, the BBC said.
Reports in France linked the incident to a theft of a cache of detonators, grenades and plastic explosives from a nearby military site at Miramas.
No one was hurt in the explosions.