A freight train carrying up to 200,000 litres of highly-corrosive sulphuric acid has derailed in the remote Australian outback. The train came off the tracks around 12 miles east of Julia Creek in northwest Queensland after heavy rains, spilling the dangerous substance in the rural outback.
Three drivers were injured in the accident, which took place around 10.20am on Sunday, 27 December. The cause of the derailing still unknown. Emergency services remain at the scene with the Queensland Police State Police enforcing a 2km exclusion zone.
Queensland Rail has confirmed that a minor leakage of sulphuric acid, which can cause horrific burns when in contact with skin, and diesel fuel spillage. Aurizon, largest rail freight operator, said the three drivers sustained minor injuries and attended the Julia Creek hospital for treatment.
"Two drivers have been released and the third is expected to be released later today," an Aurizon spokesperson said on Sunday spealking to ABC News. "At this early stage, the cause of the incident is not known.
"Both Aurizon and Queensland Rail will investigate the incident and determine its cause. At this time the focus is on recovery of the incident site."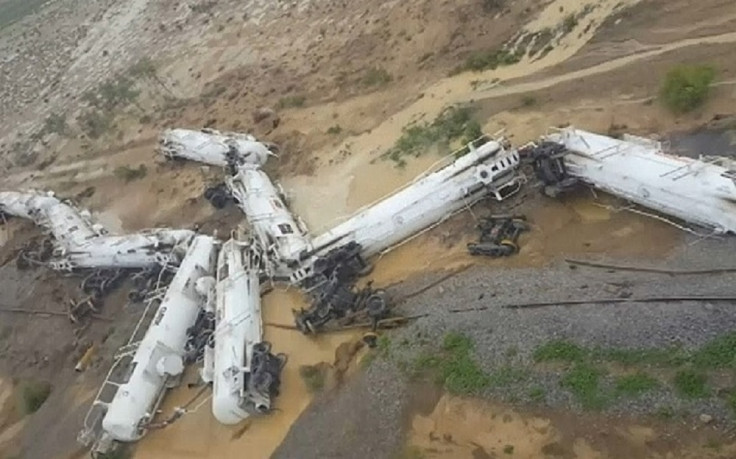 The nearby Flinders Highway has been closed in both directions between Julia Creek and Richmond. Queensland Rail said it was unclear how long the train line would be closed as the wet weather had impeded their attempts to get a team to the area to assess the cause of the crash.
"Safety is Queensland Rail's number one priority and we are investigating the cause of the incident and will work closely with relevant authorities on the environmental response as required," said Queensland Rail according to Sky News.
Residents said that the locomotive fell into a bore drain after it rolled off the tracks, ending up underwater. Hotelier David Wyld said: "The police and all that couldn't get to it, blocked the whole road off straight away. And you could smell the sulphuric acid where they actually blocked it off."
Highly-toxic sulphuric acid can cause severe burns when in contact with the skin and cause bronchitis when inhaled. The acid, mainly used in manufacturing chemicals and fertilisers, can cause lasting damage to plant and animal life.