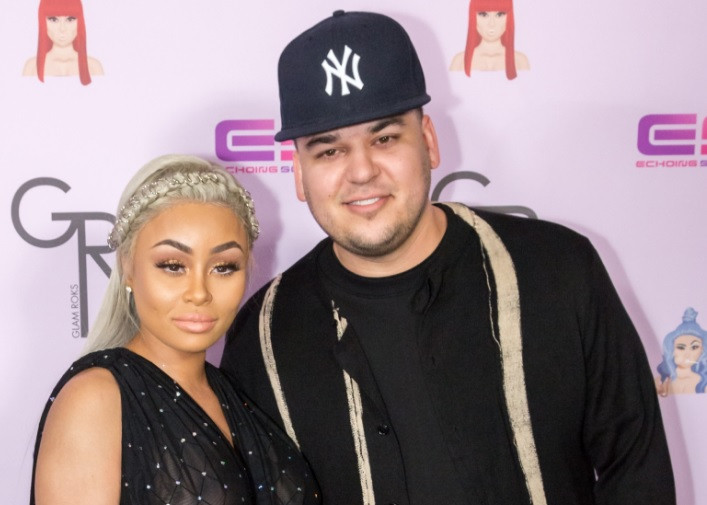 Just a month after the arrival of their baby Dream, Blac Chyna has left Rob Kardashian's house along with her two children. The model turned entrepreneur is furious at her fiance for sharing an emotional post soon after she left him.
In the post, which has now been deleted, the mother-of-two accused Rob of being "mentally ill" and verbally abusive towards her. "I'm DONE! This entire year I have done nothing but help Rob! It's so SAD & PATHETIC how low he'd stoop to cover up his personal issues! Rob is mentally ill and refuses to seek help! He self medicates which makes it worse. I have done nothing but help & loved him from the beginning! It's Chy here I got my own! I was doing swell before I got with him," the post read.
The couple, who have shared a bumpy relationship, seemed happy with each other especially after the arrival of their baby daughter. Their recent Instagram PDA posts made fans think that they might soon get married. However the news of their separation came as a shock and many assumed it as a publicity stunt to increase the viewership of the special episode on the baby on their TV show Rob & Chyna.
The fight between the couple escalated after Chyna's Instagram account was hacked and screeshots of her alleged messages were leaked. The 28-year-old former stripper reportedly left Rob after emptying Dream and King's rooms. "I got him out of Khloe's house, helped him lose all that f**king weight for him to do nothing & gain it all back! Rob asked for all of this! Rob begged me to have Dream! He stressed me out my ENTIRE PREGNANCY! Accusing me of cheating, going crazy on me with massive text blasts daily! Being an absolute lunatic & then cover[ing] it up with gifts! I was verbally abused every other day. I was still there with nothing but high hopes for us! I had to beg him to cut his hair and to get more into his businesses! I shouldn't have to tell any grown as man shit! Not to mention, just brought him a brand new Range Rover!" Chyna lambasted the Arthur George socks designer.
Just before her post, Rob accused Chyna of leaving him alone and heartbroken during Christmas.
"Sorry to be so open but I'm not feeling so good after seeing @blacchyna messages about me and what her plans were. I have never been this heartbroken in my life. I don't mind being so open or if anyone thinks I'm being weak but I don't play when it comes to Family and Chyna was my Family and thought we were getting married. My baby girl is 1 month old and Chyna took her and left this beautiful home that I just bought for us. Right before Christmas. Someone I have given my all too. I Loved every inch of that woman and loved everything that came with her. I truly loved Angela. I gave everything I owned for her. Didn't know I was just part of her plan. I really believed she was in love with me the way that I was with her and I am so hurt and never felt this before. It's different when you have a kid with someone. And after reading Chyna's messages to her best friend she was going to drop me after a year," his post read.