Revised designs for another Google headquarters "campus" in California have been unveiled, making the mega tech company look like a mini-city straight out of Star Wars. The site was initially to be covered with a soaring glass dome, but when the city of Mountain View limited space for Google expansion, designers came back with an even more futuristic look topped by an undulating solar "photovoltaic-integrated canopy skin."
The skin is designed to generate renewable energy from sunlight — but will also help regulate air quality, light, and sound inside the massive building. The 595,000-square-foot site will combine office space, restaurants and retail shops in a two-story building surrounded by community trails in a complex called Charleston East, just a short distance from the current Googleplex where some 35,000 employees currently work.
The proposal "integrates and respects nature, fosters a sense of community, and reflects Google's culture of innovation through bold architecture," says the latest report to the city of Mountain View. The "light-weight" canopy will be supported by a "grid of delicate-looking tent poles."
It's silver — not clear as in the original glass schematics — to keep birds from crashing into it. As for the building's glass walls, the proposal includes "bird-friendly design strategies" proposed by a local ornithologist, including such as less-reflective glass and "visual obstacles" to deter birds.
The ground floor will have cafes and shops open to the public, and site's center will be flexible-use space for talks, pop-up shops and food trucks. The design also includes a "green loop" that connects pedestrians and cyclists to the nearby Charleston Basin and Googleplex.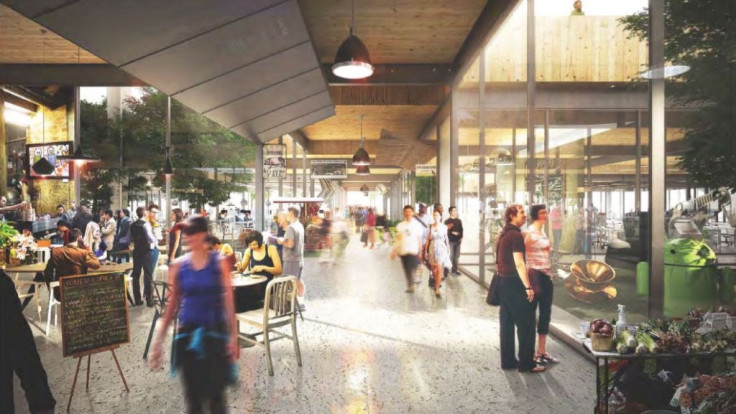 A major issue with the proposal involves the the company's plan to remove some 160 trees, with as many as 100 of them older or larger "heritage" trees, some of them redwoods.
Google insists that a good 23% of the trees on the site are "in declining health, near dead or dead." But officials have agreed to meet with the city's biologist to "discuss how to provide suitable habitat enhancement" for the area, particularly for burrowing owls living at the site.