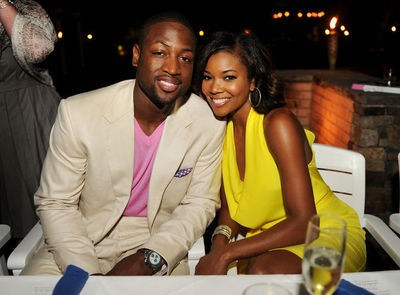 After years of silence, actress Gabrielle Union has finally addressed widespread claims that she stole Miami Heat's star Dwyane Wade from his ex-wife, Siohvaughn Funches.
The 39-year-old Think Like a Man star opened up about the gossip during a candid interview with iPower 92's TT Torrez at the Radio One Fest in Miami.
Union was branded a homewrecker after embarking on a very public romance with Wade, 37, in 2009 before his divorce from Funches was finalised.
She told Torrez that her career had been damaged because of the bad press she received about their relationship.
She said: "It's hard because, aside from loving him, I want to protect myself.
"I've built my life. I built my own brand. I built my career and my career took a hit from that madness because some people refuse to see the truth, even when it's presented to them time and time again.
"I pay for my family. I pay for my mommy and my daddy and my sisters and her family. 'D' doesn't write those cheques, I do, so when something is starting to affect the way I make a living: 'No No No baby."
She went on to explain that putting the needs of Wade's young children first was No 1 for her. "Let me figure out a way for me to protect our home that me and Dwyane have with the kids, you have to put them first," she said.
"You have to put their love of their mum, their love of peace of mind and love of consistency first, and then I have to make sure I can still feed my own family.
She claimed that taking the high moral ground had helped the couple get through a difficult period which saw them endure constant public and media scrutiny of their relationship, along with lawsuits and public allegations by Wade's ex.
"Luckily, by not engaging in the back-and-forth craziness, I was able to do both. Luckily, by doing the right thing and putting the children first, it worked out that I was able to save myself."