The HTC One X has been the number one Android smartphone ever since its was unveiled at the Mobile World Congress (MWC) 2012 in Barcelona, but it now has a serious challenger for its crown following the unveiling of the Samsung Galaxy S3.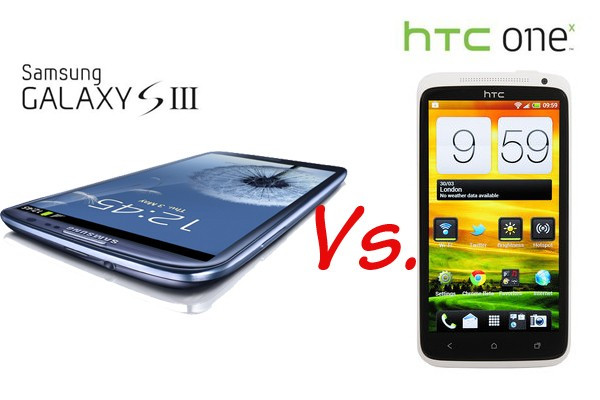 While the Galaxy S3 was undoubtedly one of the most highly anticipated smartphones in recent history, One X is a powerful quad-core phone with a great screen and delivers seamless performance. So the stage is set for a showdown of the quad-core giants.
In general, the quad-core battle has only just begun, stealing the spotlight away from single-core smartphones such as Nokia's Lumia 900 and HTC Titan 2 and even dual-core phones like the Galaxy S2 and iPhone 4S.
Boasting features such as eye-tracking technology, Near Field Communication (NFC), 4G connectivity and S Voice (equivalent of Apple's Siri), Samsung's flagship smartphone - the Galaxy S3 - is looking to set a new benchmark for all upcoming Android and high-end smartphones.
To help you decide which phone is the right one for you, here is a breakdown of the main features of two leading Android smartphones:
Galaxy S3 vs One X: Display
The HTC One X sports a 4.7in (720 x 1,280 pixels) Super IPS LCD2 capacitive touchscreen display with a 312ppi (pixels per inch) pixel density and is covered in scratch-resistant Gorilla Glass.
In contrast, the Galaxy S3 features a slightly larger, 4.8in Super AMOLED Plus 720p HD display (720 x 1,280 pixels) with a slightly lower 306ppi pixel density and again includes Corning's Gorilla Glass for protection against scratches.
There is no doubt that the One X's screen is the best we've ever seen on a smartphone, even trumping the Retina display of the iPhone 4S. The superior IPS LCD2 display technology gives you amazing viewing angles, pin sharp images and text and very accurate colour reproductino. The S3 on the other hand, delivers superior brightness levels and even better viewing angles owing to its Super AMOLED technology.
Winner: A hard one to call as both have amazing displays, but for now the One X takes the point.
Galaxy S3 vs One X: Design
The HTC One X weighs 130g and is 134.36mm tall, 69.9mm wide and 8.9mm thick. In comparison, the S3 is 136mm tall, 70mm wide, but is slightly thinner at 8.6mm. The S3 does weigh three grams more, but this is almost unnoticeable. All this means that both phones are almost identical in terms of dimensions in weight.
What sets them apart however is design. The One S uses a polycarbonate unibody design and a curved glass screen at the front to make it appear more compact than it really is. We loved the design and feel of the phone, though the white version did quickly attract scuffs and grubby fingerprints.
The Galaxy S3 has moved away from the squared-off design of the S2 and uses more gentle curves on the top and bottom of the phone. The Galaxy S3 does not however feel premium, with a flimsy back cover making it feel cheap, rather than the premium phone we would have expected.
Winner: For us, there is only one winner here, the One X, though for some the we're sure, the Galaxy S3 will be an attractive option.
Galaxy S3 vs One X: Memory and Storage
Both the One X and S3 pair 1GB of RAM with their quad-core processors, but they differ greatly in terms of the amount of on-board storage options.
The HTC One X comes with only one option, 32GB of internal storage and does not have a microSD card slot, meaning you are stuck with 32GB for the lifetime of the phone. While this is probably a perfect amount for many, there will be users out there who would have liked a cheaper, 16GB version, or a 64GB version to store all their music and videos. The lack of a microSD card really is a major disappointment with the One X.
On the other hand, the Galaxy S3 will ship on 29 May in three versions: 16GB, 32GB or 64GB, and all of these are upgradeable by another 32GB using the microSD card slot.
Winner: With support for microSD slot and more versions on offer, the Galaxy S3 is the clear winner in this department.
Galaxy S3 vs One X: Software
Both One X and Galaxy S3 run on the latest version of Android, codenamed Ice Cream Sandwich. This is a basic requirement for any high-end smartphone, though Sony has missed a trick with its Xperia S, by not including it from launch.
The differentiator in this category is the proprietary skins each manufacturer puts on top of Android.The HTC One X comes with the Sense 4.0 UI on board, while the Galaxy S3 will ship with TouchWiz 3.0.
Both offer a variety of different widgets and apps designed to make you smartphone experience more enjoyable. Both have social media aggregrators, weather and time widgets and contacts widgets and it really is a matter of taste if you prefer one or the other.
We would ideally like an option to turn off both of these and use vanilla Android if that is what we wanted, but manufacturers don't seem to be willing to offer this option.
Saying that, we liked the latest version of Sense on the One X and HTC seems to be listening to customers and tweaking things to be a little less intrusive. From our brief play with the S3, the TouchWiz interface doesn't seem to have changed much, but we did notice that it was lightening fast and we loved the way you can scroll through homescreens like a carousel.
Verdict: This is really all about personal preference, but for us the One X just about pinches it.
Galaxy S3 vs One X: Features
Samsung revealed that the Galaxy S3 will come with a Siri-like voice activated personal assistant. Called S-Voice, and powered by Wolphram Alpha, it lets you take control of a range of features while also understanding natural phrases. It understands eight different languages including British and American English, Italian, German, French, Mediterranean, Latin, Korean and Spanish.
Integrated into a number of apps, S Voice will allow you to simply say "Take a picture" while in the camera app and it will follow your command.
While the One X does not have a dedicated Siri-like assistant, there are a number of Android apps available which mimic some of S Voice features.
Verdict: If the Galaxy S3 manages to use S Voice properly, it could be a big winner for it, particularly if it works the world over, unlike Siri.
Galaxy S3 vs One X: Processor
HTC's flagship smartphone features the powerful 1.5GHz Nvidia Tegra 3 System-on-Chip (SoC) which features a quad-core processor combined with a 12-core GPU. The Tegra 3 has a 4-plus-1 architecture which features a fifth companion core which is used for low power operations and claims to help extend battery life. The US version however features a 1.5GHz Qualcomm S4 chip which has a dual-core CPU, though it will also feature a 4G LTE radio, a feature lacking from the UK version.
In contrast, the S3 is powered by the company's own Exynos 4 Quad SoC, which features a 1.5GHz quad-core processor. While this has yet to be fully benchmarked, Slashgear carried out some tests at the launch last night and it seems as if the Exynos chip will blow all others away with its processing power. Again from a brief play at the launch, we would have to agree as the Galaxy S3 was super fast when carrying out all operations, including the feature of being able to play HD video while browsing the web.
Verdict: Again this is a close call, but we have to give it to the Galaxy S3.
Galaxy S3 vs One X: Connectivity and Network
Near Field Communication (NFC)
The Galaxy S3 has built Wi-Fi Direct into the phone and Samsung has combined this with Android Beam to create a service called S Beam, allowing you to transfer files, including large video files, between two phones simply by making physical contact or touching each other. The NFC chip will of course allow you to carry out cashless transactions.
In comparison, the One X does include an NFC chip and can use Android Beam letting it share, URLs, photos and other files.
4G LTE
The One X will support LTE connectivity over AT&T's HSPA+ 4G network across 850/900/1900 and 2100MHz network bands. The also includes Wi-Fi 802.11 a/b/g/n, as well as supporting Wi-Fi hotspot and Bluetooth v4.0 with A2DP.
On the other hand, the Galaxy S3 also supports similar Wi-Fi capabilities alongside Bluetooth connectivity. The 4G LTE support includes LTE 700 network band, alongside 3G bands HSDPA 850/900/1900 and 2100 MHz bands.
Verdict: While both come in 3G and 4G flavours, the S Beam and Wi-Fi Direct features of the Gaalxy S3 just tip the balance.
Galaxy S3 vs HTC One X: Camera
Both One X and Galaxy S3 offer cameras with an 8 megapixel sensor, autofocus and LED Flash. Both are also capable of capturing 1080p video at 30fps and both will let you capture still images while you are recording video.
The S3 supports geo-tagging, touch focus, face and smile detection, and image stabilisation. It comes with a 1.9 megapixel front-facing camera for video chatting and 720p video capture, compared to a 1.3 megapixel front camera on the HTC One X.
The HTC One X also supports geo-tagging, face and smile detection, touch focus and features a single app for video and still images.
Verdict: As we have yet to fully try out the Galay S3 camera, we have to go purely on specifications and in that case, this has to be called a draw.
Galaxy S3 vs One X: Battery
The One X features an 1800mAh battery, while the Galaxy S3 comes with a larger and more powerful 2100mAh battery which should mean we get longer battery life from the Samsung device. However with the vagaries of processor drain and differing screen technology, it is not a fore gone conclusion and we will have to wait until we get a chance to test the S3 properly before we can make a decision.
Verdict: On paper it's the S3, but we'll wait until we test it properly before we make a decision.
Galaxy S3 vs HTC One X: Overall
Overall, both smartphones are seriously impressive devices featuring top notch screens, the latest version of Android and powerful processors. With unique features like face recognitions and S Voice, the Galaxy S3 certainly has a lot going for it, and with pre-orders for the phone set to break all records, we expect it will sell in huge numbers.
However the HTC One X is not going to go away quietly and it still features the best screen we've seen on any smartphone.
The decision at the end of the day is yours, but make sure you read out hands-on review and round up of the best deals available before making your decision.
MUST READ: Samsung Galaxy S3: Was Smartphone Design Crafted by Lawyers?
MUST READ: Galaxy S3 vs Galaxy Note vs Nokia Lumia 900: Who Will Win the Battle of Heavyweights?
MUST READ: Galaxy S3 vs HTC Evo 4G LTE vs Galaxy S2 Skyrocket HD: Which One Would You Buy?