Can Samsung's highly anticipated flagship smartphone, the Galaxy S3, match up to the larger Galaxy Note and the flagship Windows Phone, the Nokia Lumia 900?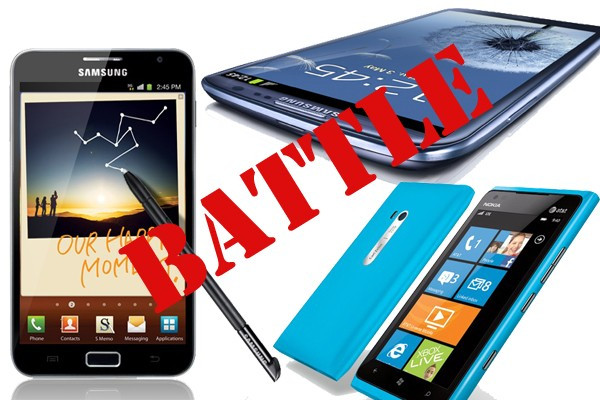 Samsung's highly anticipated flagship smartphone, the Galaxy S3, has just been launched and so smartphone users around the world will be looking to see if it is the phone for them. We've already put it up against the HTC One X, and outlined the best deals available in the UK, but we're now testing it against two other smartphone giants, very large 5.3in Galaxy Note, and the flagship Windows Phone device, the Nokia Lumia 900.
The Galaxy S3 incorporates some unique features like eye-tracking, inbuilt Wi-Fi Direct, S Voice (a Siri alternative) and Direct Call, which lets you answer the phone by simply putting it to your ear. It certainly has set a seriously high benchmark for any up-coming high-end smartphones.
On the other hand, Nokia's Lumia 900 sports a sleek and trendy design with ClearBlack glass screen. It delivers ultra-fast connectivity speeds even during video-streaming, which is one of the stand out features of the phone. It also offers Nokia Extras, which includes a set of apps such as Mix Radio and Nokia Drive.
In contrast, Galaxy Note combined with its S Pen stylus tries to combine the best of a smartphone and the best of a tablet. The stylus enables users to take down notes and draw sketches on just about any app, making the process of note taking a lot more seamless. Users get to do more and view more with the monstrous 5.3in screen, reducing the need to scroll and number of screen transitions - though some will find it just too big.
To help you decide which one to pick, here is the breakdown of the feature comparison for these leading smartphones:
Galaxy S3 vs Galaxy Note vs Lumia 900: Screen
The Galaxy Note features a huge 5.3in HD Super AMOLED display with a resolution of 800 x 1,280 pixels. It incorporates damage resistant Corning Gorilla Glass that protects the screen from daily wear and tear.
The Nokia Lumia 900 flaunts a smaller yet elegant 4.3in ClearBlack AMOLED display with 480 x 800 pixel resolution, while the Galaxy S3 features a slightly larger, 4.8in Super AMOLED Plus 720p HD display (720 x 1,280 pixels) with 306ppi pixel density and also includes Corning's Gorilla Glass for protection against scratches.
With all three smartphones boasting an AMOLED display, there is very little to choose between them from a technology perspective. Nevertheless, both versions of Galaxy smartphones hold the edge with their 720p HD display that also translates to a higher pixel density for crisper, sharper and superior colour reproduction.
Winner: It's a hard call to make, but the Galaxy Note just about takes the points due to that big, bright screen.
Galaxy S3 vs Galaxy Note vs Nokia Lumia 900: Processor
The Lumia 900 is powered by a 1.4GHz Scorpion CPU, based on Qualcomm APQ8055 Snapdragon chipset and is paired with an Adreno 205 GPU. The Snapdragon S2 chipset manages to strike a fine balance between processor performance and power-saving.
The problem is that because of the fact it is a Windows Phone 7 device, Nokia was limited to using a single core CPU, which seem very anachronistic in these days of quad-core processors. But, if you steer clear of intensive 3D gaming, its single-core architecture keeps your battery from draining too quickly, giving longer battery life.
In comparison, the Galaxy Note uses an dual-core CPU based on the ARM Cortex-A9 design, also clocked at 1.4GHz, but based on a Samsung Exynos chipset which uses a Mali-400MP GPU. Wielding the power of world's first mobile dual-core CPU, its processor chipset is optimised for faster web browsing, snappier response time and overall better performance. ARM Cortex-A9 cores are based on the 32-bit multicore processor architecture and optimised for superior battery life, while minimizing heat dissipation.
The Galaxy S3 is powered by the compnay's own Exynos 4 quad SoC, which features a 1.5GHz quad-core processor. While this is yet to be fully benchmarked, Slashgear carried out some tests at the launch last night and it seems as if the Exynos chip will blow away its rivals with its raw processing power. Again from a brief play at the launch, we would have to agree as the Galaxy S3 was super fast when carrying out all operations, including the feature of being able to play HD video while browsing.
Winner: If we want raw-power with extreme performance, we have to no doubt give it to the Galaxy S3. But, for those craving for longer battery-life with a balanced performance then either Galaxy Note or Lumia 900 would still be a good choice.
Galaxy S3 vs Galaxy Note vs Nokia Lumia 900: Memory and Storage
Both the Galaxy S3 and Galaxy Note pair 1GB of RAM while the Lumia 900 comes with 512MB RAM, though the shortfall is less noticable thanks to tight software and hardware integration.
Teh Samsung Galaxy Note comes in 16GB and 32GB versions and also features a mciroSD card which will let you expand the storage by up to another 32GB.
Teh Galaxy S3, on the other hand comes in three versions: 16GB, 32GB and 64GB and also features a microSD card for an extra 32GB of storage.
Meanwhile, the Lumia 900 ships in only one version with 16GB of storage and no microSD card slot. This will be a major issue for people who want their phone to hold a lot of their music, photos and video and it is where the Lumia 900 falls down.
Winner: With larger RAM and more inbuilt storage options and support for SD card expansion, the Galaxy S3 has it all.
Galaxy S3 vs Galaxy Note vs Nokia Lumia 900: Operating System
The Samsung Galaxy S3 will ship with Android 4.0 (Ice Cream Sandwich). This is a basic pre-requisite for any high-end smartphone to get the best out of its powerful hardware, particularly the dual-core and quad-core devices will benefit from the updated interface. The Galaxy S3 will also come with TouchWiz 3.0 skinned on top.
The Galaxy Note initially shipped with the older Android 2.3 (Gingerbread), but Samsung has promised that the update to ICS is coming, initialy saying it was going to arrive in Q2 of 2012. However roll out has been slow and not everywhere has got it yet. Again the Note is skinned with TouchWiz 3.0 as well as getting some apps which are specifically designed to take advantage of the S Pen stylus, such as a note taking app and a sketching app.
The Lumia 900's most distinguishing feature is of course the presence of Windows Phone 7.5 (Mango) which features the metro style interface we will soon see on Windows 8. The Live Tiles homescreen is a nice, fresh and slick interface and the whole system works very well. However a severe lack of app in the WP7 Marketplace means that some basic features will be missing - though Microsoft says this is changing quickly.
Verdict: While Windows Phone 7 may appeal to some, Android is still king for the moment and the Galaxy S3 having Android from launch means it takes the points.
Galaxy S3 vs Galaxy Note vs Nokia Lumia 900: Key Features
S Voice
Samsung revealed that the Galaxy S3 will come with a Siri-like voice activated personal assistant. Called S-Voice, and powered by Wolphram Alpha, it lets you take control of a range of features while also understanding natural phrases. It understands eight different languages including British and American English, Italian, German, French, Korean and Latin American.
Integrated into a number of apps, S Voice will allow you to simply say "Take a picture" while in the camera app and it will follow your command.
While the Galaxy Note and Lumia 900 do not have a dedicated Siri-like assistant, there are a number of third-party apps available which mimic some of S Voice features.
Near Field Communication (NFC)
The Galaxy S3 has built Wi-Fi Direct into the phone and Samsung has combined this with Android Beam to create a service called S Beam, allowing you to transfer files, including large video files, between two phones simply by making physical contact or touching each other. The NFC chip will of course allow you to carry out cashless transactions.
The Galaxy Note does have an NFC chip, and can be used with the Android Beam app which will let it share, URLs, photos and other files - though not as quicky of widely as the Galaxy S3.
Again as a reuslt of restrictions placed on it by using WP7, the Nokia Lumia 900 does not have an NFC chip.
Winner: Boasting revolutionary features such as S Voice and NFC, the S3 is the clear winner.
4G LTE
Both Galaxy Note and Lumia 900 supports 3G bands - HSDPA 850 / 900 / 1900 / 2100 - and Wi-Fi capabilities, similar to the Galaxy S3. However, the latter also supports 4G LTE including LTE 700 network band.
Winner: Boasting features such as S Voice and S Beam, as well as superior 4G LTE network support the S3 holds all the aces in this category.
Galaxy S3 vs Galaxy Note vs Nokia Lumia 900: Camera
Both the Lumia 900 and Galaxy S3 offer cameras with an 8 megapixel sensor, autofocus and LED Flash. The former captures 720p videos at 30fps, while both the Galaxy S3 and Galaxy Note capture 1080p videos at 30fps. Only the Galaxy S3 will let you capture still images while you are recording video.
In contrast, Galaxy Note sports a 3.15 megapixel rear camera with autofocus and LED flash, while offering a 2 megapixel front camera for video chatting.
The Galaxy S3 supports geo-tagging, touch focus, face and smile detection, and image stabilisation. It comes with a 1.9 megapixel front-facing camera for video chatting and 720p video capture, while Lumia 900 offers a 1 megapixel camera at 15fps.
Winner: While we still have to see the image results of the Gaalxy S3 camera, its features and specs suggest it will be the winner.
Galaxy S3 Vs Galaxy Note 10.1 and Nokia Lumia 900: Battery
The Galaxy Note comes with a huge 2500mAh battery, while the Lumia 900 ships with a less powerful 1730mAh battery. In contrast, the Galaxy S3 comes with a 2100mAh battery, which should mean we get longer battery life from the Samsung device compared with the Lumia 900.
However, given the nuances of processor drain and differing screen technology, it is not a fore gone conclusion and we will have to wait until we get a chance to test the S3 properly before we can make a decision.
Verdict: On paper the Galaxy Note clearly holds an edge, but we'll wait until we test it before making a decision.
Galaxy S3 vs Galaxy Note vs Nokia Lumia 900: Overall
The Galaxy S3, boasting the power of a quad-core 1.4GHz processor, simply blows away its rivals with raw processing power and performance. Samsung's next-gen smartphone would be an ideal choice for multitasking and gaming, which is a pre-requisite for most power users.
On the other hand, the Lumia 900 and Galaxy Note could be the best budget alternatives for those who want a decent smartphone with a rich feature set and not inconsiderable processing power, without having to tie themselves to a big contract.
As always, we leave the final decision to you.
MUST READ: Samsung Galaxy S3: Was Smartphone Design Crafted by Lawyers?
MUST READ: Galaxy S3 vs HTC Evo 4G LTE vs Galaxy S2 Skyrocket HD: Which One Would You Buy?