Apple launched the iPhone 6s and iPhone 6s Plus in September this year, which would rival Samsung's high-end Galaxy range of smartphones. The 2GB RAM variant of the iPhone 6s outperformed the 4GB edition of Samsung's newest Galaxy Note 5 in recent tests.
However, the 6s suffered a massive setback, in new tests undertaken to compare the rear camera of the two devices. In these benchmark tests, the quality of images captured by the primary camera of the iPhone 6s was analysed with photos taken from other high-end smartphones.
The tests, conducted by DxOMark, determined that the quality of images and videos shot on the iPhone 6s were similar to that of its predecessor, the iPhone 6, and sub-par to other Android devices. [Check out previous benchmark tests run on Apple iPhone 6s]
Results showed that the rear camera quality of the Samsung Galaxy Note 4, LG G4, Samsung Galaxy S6 Edge, Sony Xperia Z5, Apple iPhone 6 Plus, iPhone 6, Sony Xperia Z3 Plus and the Motorola X Style were better than or similar to the iPhone 6s.
Other smartphones, that were subjected to the test include Samsung Galaxy S5, Sony Xperia Z3, Xperia Z2, Google's Nexus 6 and the Sony Xperia Z1; all of which obtained a lower score as compared to the 82 points of the iPhone 6s. Samsung's Galaxy S6 Edge notched up a score of 86 to overtake the 6s.
Apple iPhone 6s vs rival smartphones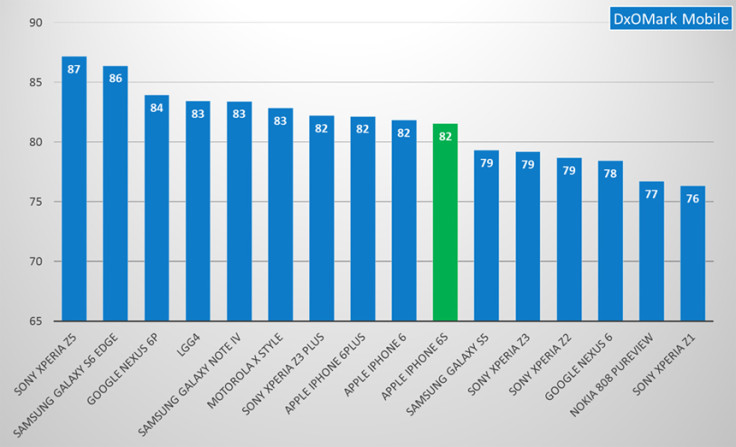 However, in selective tests on the quality of camera exposure, contrast, colour rendering and flash, run on the iPhone 6s and the Samsung Galaxy S6 Edge, Apple's newer smartphone outperformed rivals.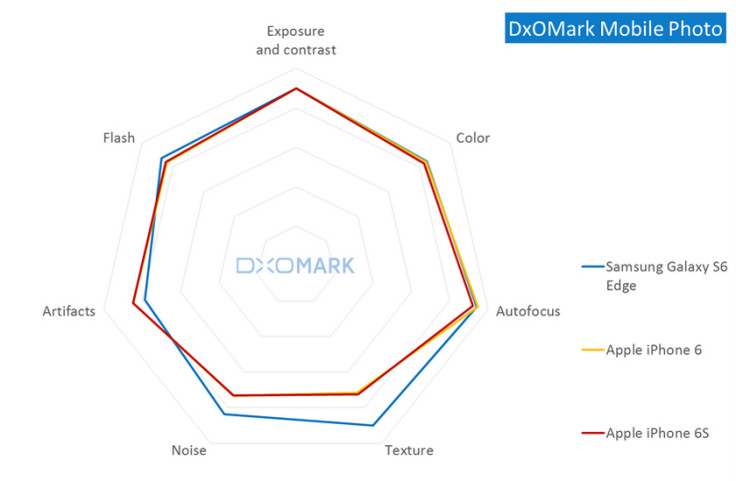 With respect to noise reduction in video and preserving texture, the iPhone 6s Plus scored 80 points to stay behind the S6 Edge and last year's iPhone 6. Check out the scores below: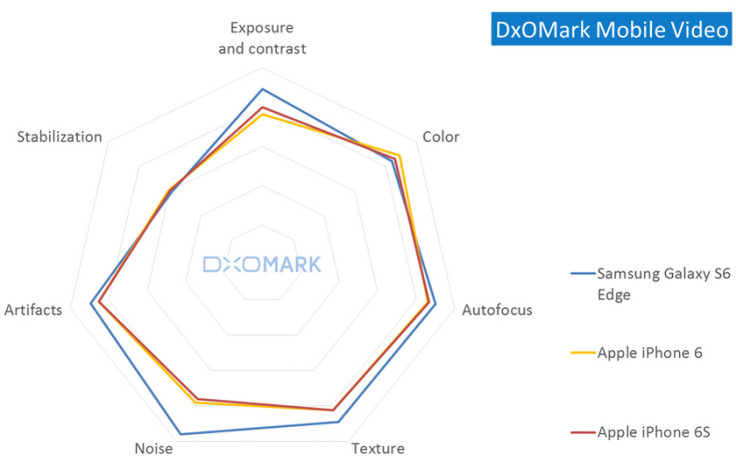 Areas in which Apple iPhone 6S Plus beats competition
As per the test results, the iPhone 6s beats rivals in the following areas:
Consistent and precise autofocus maintained in all test environments.
Comparatively better camera exposure.
Comparatively better magnification of image details even in bright light conditions.
Consistent maintenance of white balance during test conditions.
Precise autofocus, for video, maintained in test conditions.