Samsung Galaxy S6 and S6 Edge seem to be recently affected with an inherent software bug that is reportedly leading to these devices randomly missing notification toggles including quick toggles for mobile data, hotspot and private mode.
Folks at Android Police have confirmed that the issue is predominantly affecting huge numbers of Galaxy S6 and S6 Edge users for some unknown reason.
Samsung has recently acknowledged this issue via customer support as well as its official Twitter accounts in response to the rising number of complaints regarding the problem from its loyal fans and users: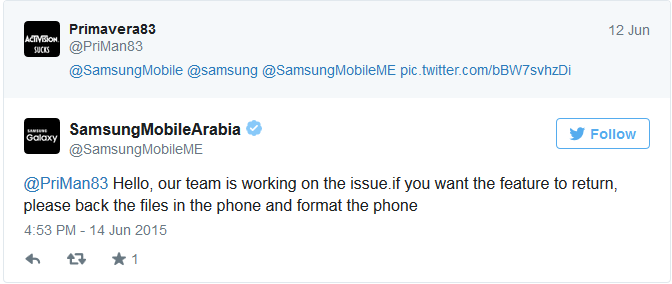 Meanwhile, the company has urged affected users (via Twitter) to back up their important data and perform a factory reset of the phone.
However, some folks at XDA have ascertained that the issue is basically isolated to a software bug, which forces the operating system to remove all notification toggles that the user has not touched in more than 30 days.
On the contrary, Android Police clarifies that the issue could be both random and intermittent, while not necessarily affected by the 30-day use and disuse theory of XDA.
Nevertheless, interested users who want a quick-fix for the disappearing notification toggles issue can go ahead and try installing a bunch of modified APKs that will re-enable the switches or toggles for Wi-Fi hotspot, private mode and mobile data, for which credit is due to XDA senior member NimeniAltu.
All of these APK fixes have been confirmed to work fine on both Galaxy S6 and S6 Edge. You can grab a copy of these APKs from the following download links:
Modified APK fix for mobile data toggle switch
Modified APK fix for Wi-Fi hotspot toggle switch
Modified APK fix for private mode toggle switch
Steps to install modified APK fix for missing toggles issue on Galaxy S6 and S6 Edge
Just download and install the necessary APKs from the above links on your smartphone.
Hit 'add MultiWindow toggle' and the missing toggle switch for the installed APK will be restored on your phone. Repeat the same step for installing all the APKs successfully.
You may later uninstall all the installed APKs without losing or affecting the installed toggle switches.