This summer two of the best things are happening simultaneously: Game Of Thrones season 6 premiered on 24 April, while the 2017 Spring Bridal Fashion Week has heralded the wedding season early. For this season's brides-to-be, it is an ideal opportunity to explore the world of Westeros and incorporate some of the famous wedding trends — or infamous in case a "red wedding" is your style — and sport a GOT inspired gown on your 'D' day. From colours to patterns, structures, prints and even the style options for a Westeros-fashioned wedding are endless.
The Queen in the North
Sansa Stark might have made some poor choices when it comes to selecting her life-partners — not that she had much in her hand — yet the rightful heir of the North hasn't failed to impress with her larger-than-life styled wedding gowns during each of the nuptials. The gold-hued, warm-toned dress that the Stark girl donned for her Southern wedding remains one of the favourite and something that can be easily recreated by the modern brides.
Yet, when it comes to dressing the Queen in the North, only a snow-white gown with a hint of gold like this one from Alexander McQueen can do proper justice.
An interesting combination of white and gold in this Kelly Faetanini 2017 piece beautifully combines the northern spirit and southern hue for the Sansa-inspired bride.
The 'red wedding'
In the context of GoT, a "red wedding" is not the most pleasant thing to remember specially on a day as memorable as one's marriage. However, the very thought of a "red wedding" opens a whole new door of possibilities. Perhaps with some borrowings from the feisty Cersei's wedding wardrobe — she has been married twice — today's bride-to-be can add a hint of red to her big day fashion. Gold-thread embellished Cersei's ox-blood red gown will surely inflame a heart or two.
For the high-maintenance bride, custom Givenchy haute couture floor-length gowns recreate an ideal Cersei "bridal" look. Along with a shiny choker and boho beads, the fiery bride is all set to walk down the aisle.
Highgarden's floral bride
Whether or not an avid GoT follower, by now every fashionable person is well-acquainted with Margaery Tyrell's flair for floral, especially when it comes to wedding scenes. The Highgarden princess' eye for details — recalling the cuffs and elaborate braids from earlier seasons — had made her a talk of the town, in this case the King's Landing. What particularly stole the show was her flower-encrusted lavender gown. Geoffrey couldn't possibly take his eyes off the back-baring gown that Margaery wore with her hair beautifully assembled on her crown.
Dothraki meets boho bride
While talking about the Westeros bride, it wouldn't be right to leave behind Queen Danerys, who's setting a trend of her own. Beautiful, bold and feminine best describe the Dothraki bride's exuberance. Along with the gradual evolution of her personality, Danerys style has changed too, complementing her every role with panache.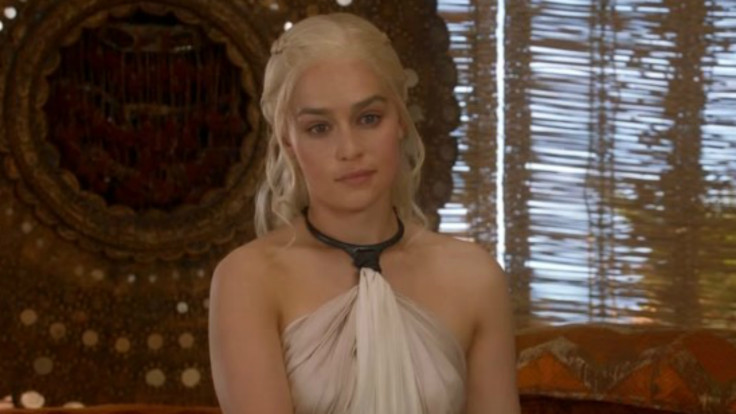 This outfit might not be for an archetypal wedding but it sure exudes the Dothraki vibes. Horse - check, boho dress- check, Alice Temperley's red and white long dress brilliantly captures the Danerys's style.