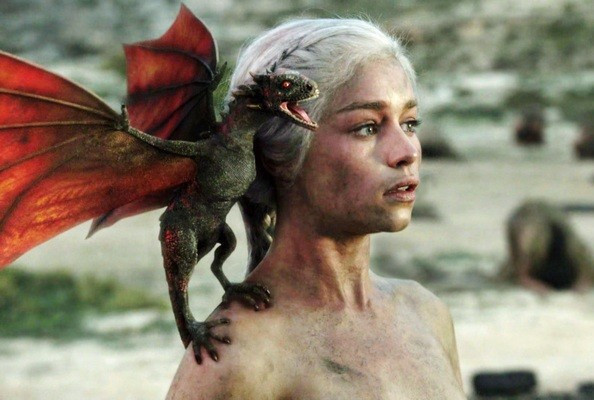 People and businesses in Northern Ireland are hoping to cash in on a boom in tourism after producers confirmed that the fourth series of the hit fantasy TV series Game of Thrones will be filmed in its castles, forests and coastlines.
The region is believed to have profited by £65 million from the previous three series, with its creators attracted to it partly because of the tax breaks offered to TV productions by the government.
The show, which is based on the novels of George RR Martin, tells tales of war and sorcery set in a fantastical medieval world and has an average US audience of 11.6 million viewers and millions more worldwide.
In the UK, the show is broadcast on Sky Atlantic, where the final episode of the third series will be shown on Monday 10 June.
Many hope Northern Ireland could receive a Lord of the Rings style boost from the show's success, with millions visting the locations in New Zealand where the movie trilogy was filmed.
Moyra Lock from film commission Northern Ireland Screen helped attract producers HBO to the region.
She said: "The value of Game Of Thrones is immense, obviously. Apart from the pure economic impact on Northern Ireland in terms of expenditure on goods and services, I think there's a huge tourism value.
"When people see Game Of Thrones on the TV they'll see a whole different side to Northern Ireland. They'll see beautiful locations such as very ancient landscapes and beautiful beaches."
Locals are already cashing in by offering bus tours of landmarks that feature in the show, such as Ballintoy Harbour, which doubled as Lordsport Harbour, Downhill beach, which was used for the burning of the seven old gods on Dragonstone, and Dark Hedges, the atmospheric and reputedly haunted avenue of beech trees near Armoy, which Ayra Stark passed through on her escape from Kings Landing in the second series.
An exhibition of costumes from the show is also opening in Belfast this week, with organisers hoping to attract more fans to the region.
Elana Loewenthal, director of International Marketing at HBO, said that the exhibition had been a huge international success after visiting New York. Sao Paulo, Amsterdam and Toronto.
"This show being filmed in Northern Ireland has definitely grown awareness for Belfast and Northern Ireland in general and HBO have partnered with the Northern Ireland tourism board and Northern Ireland Screen to bring this exhibition here.
"We know Game Of Thrones is so popular with fans worldwide: they dress up, wait for hours, love talking about the show and being a part of it."
Click on the video link below for a preview of the finale of season 3 of Game of Thrones.