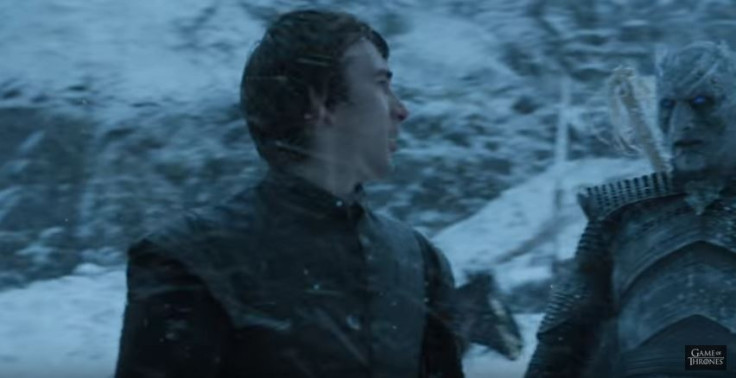 After a scintillating episode featuring an emotional Jon Snow and the fiery queen Daenerys Targaryen, Game Of Thrones season 6 returns this Sunday with episode 5 titled The Door. As usual, the official description of the episode does not reveal much, but the promo offers quite a glimpse of some socking twists ahead.
Click here to login to HBO Go and watch the episode live online. The HBO Now website will also stream Game Of Thrones season 6 from any web browser or computer, as long as you have an account.
Bran Stark is time travelling under the guidance by the Three-Eyed Raven, and in one of the previous episodes went to his father Ned Stark's earlier days and witnessed Ned and Howland Reed killing the Targaryen guards before entering The Tower of Joy.
The younger Stark son wanted to enter the tower, but his mentor foiled his efforts by stating that it is too dangerous to get emotional. However, the promo released by HBO hints at looming danger over Bran and it seems like his ability of visiting the past will fire back as he will encounter the Night's King, the king of the White Walkers.
Further, it appears that he may have ignored Raven's warning and is trapped in the North in his vision, while Meera tries to wake him up. It will be interesting to see how the encounter helps Bran learn "a great deal" as teased in the synopsis.
Elsewhere in the North, Jon Snow will be seen preparing for war against Ramsay Bolton, but is puzzled to find allies as he needs a bigger army to fight Lord Bolton's 5000 men at Winterfell. Moreover, Littlefinger's awkward meeting with Sansa at Castle Black, hints that the Lord Commander might find more men other than the wildlings to fight the brutal Ramsey and reclaim the Stark "home".
Below is the synopsis of the upcoming episode:
After that epic fiery scene where Daenerys emerged as the goddess for thousands of Dothraki, it will be interesting to see what will be her next move. GOT season 6 episode 5 will air on 22 May at 9pm EST on HBO in the US and on 23 May at 9pm on Sky Atlantic in the UK.