Game Of Thrones season 6, three days to go: Why do fans want Tyrion Lannister to be US president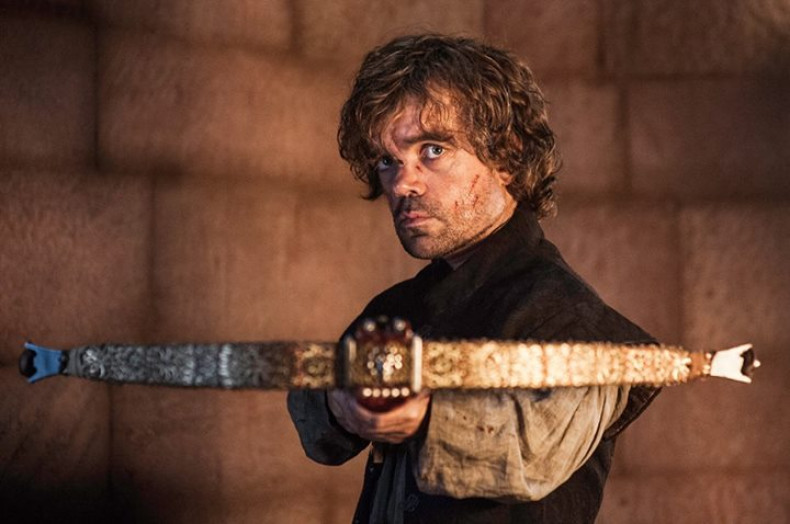 The votes are in... and it is Tyrion Lannister for president. At least this is what fans of the character from Game Of Thrones would have liked to see in this year's US presidential elections.
According to a new poll conducted by Survey Monkey of 2,045 respondents, "The Imp" won 24% of the votes and was tied with Democratic candidate Bernie Sanders. Clinton earned 20%, followed by Daenerys Targaryen with 14% and Trump came in fifth winning 7% of the votes.
Now, with only three days remaining for the television premier of Game Of Thrones season 6, IBTimes UK takes a look at the show's beloved character, who most fans would like to see sitting on the Iron Throne, Tyrion Lannister.
For a boy born to a house of riches and power, his physical limitations as a dwarf caused him to be ostracised by many, including his own family. Luckily his temperament has made him one of the game-changers on the show.
Tyrion Lannister
By the end of season one of GoT, the youngest and shortest of Tywin Lannister's children became a fan favourite. With a combination of drunken wit, mental acuity and a genuine good-guy persona, Tyrion (Peter Dinklage) is by far one of the show's few Lannisters who you do not want to see written off... and those do not come by easily.
Growing up under the shadow of a powerful and dominating father, a combat-skilled brother Jamie and a sister Queen Cersei, Tyrion turned to books and knowledge from a young age. He preferred to spend his time in the company of whores and wine, as they treat him a lot better than his family, who blame him for the death of his mother Joanna at childbirth.
The relationship of disdain between Tyrion and his father increased after an incident, where the younger Lannister fell in love with a prostitute and married her. This prompted his father to break the marriage and he paid her to service all of his guards while forcing his son to watch the entire escapade.
In season one, Tyrion is accused of trying to kill Brandon Stark and is sentenced to death by combat by loony Lady Lysa Arryn of the Eyrie. Luckily for him, a sell-sword Bronn decides to fight on his behalf and wins. The two later become friends-of-sorts.
While helping his father fight Robb Stark's army, Tyrion meets a prostitute called Shae, who ends up becoming his romantic companion for a long time. After losing the battle, dad Lannister appoints his youngest son to act as Hand of the King in his stand and sends him off to King's Landing.
The time spent at the capital works as a great opportunity for Tyrion to use his knowledge and cunning in running the empire, while his nephew – the sadistic King Joffrey – continues to torture his fiancé Sansa Stark and sentences every second person who displeases him to death.
But playing Hand of the King is no easy task for "The Halfman" who has to deal with his sister Cersei playing dirty at every turn to have more power on her side. By the time the Battle of the Blackwater nears, with Stannis Baratheon sailing towards them, Tyrion sets in place one of his clever battle strategies and manages to send Stannis' army to a watery grave thanks to a crazy boatload of Wild Fire. He even takes his axe in hand to go fight the remainder of the enemy's army, but is struck down by one of his own soldiers, who is ordered by Cersei to kill him. Now that's what we call sisterly love!
Tyrion gets pushed to the sidelines
They say no good deed goes unpunished and Tyrion experiences it firsthand. After working hard to protect the capital from internal (read Joffrey) and external threats, post the Battle of the Blackwater, his father who arrived with reinforcements during the fight, takes over as the Hand of the King. Tyrion is moved off to a grimy old room to recover from his battle wounds.
In season three, we once again see just how much Tywin dislikes his son. Since his elder brother Jamie relinquishes all rights to inheriting Casterly Rock by become a member of the King's Guard, Tyrion asks his father to give it to him instead, considering he is next in line to inherit, but is slammed immediately and in his own daddy's words, "I would let myself be consumed by maggots before mocking the family name and making you heir of Casterly Rock.
"Neither gods nor men will ever compel me to allow you to turn Casterly Rock into your whore house."
Since the Tyrells helped win the battle, as a show of gratitude for the well-timed aid, Margaery marries King Joffrey and his former fiancé, Sansa is made to marry Tyrion. Here we see The Imp at his kindest, when instead of following his father's orders to consummate his marriage with his 14-year-old bride; he promises her that he will never lay a finger on her unless she wants it.
After their own union, it is time for the king to marry, and Joffrey uses the occasion to mock his uncle by making him act as his cup bearer and pours wine over his head. Soon after, the young demon child dies from poisoning, and Tyrion is blamed for it and sentenced to death.
With help from Varys – the Master of Whispers –¬ he manages to escape but not before going in search of his father for retribution, after all it was his father who condemned him to death. That's when he finds his love, Shae in Tywin's bed, a little while after she had testified against Tyrion in court. Heartbroken, he first strangles her and then kills his father.
Now with Varys, he sets sail away from King's Landing and the two make their way in search of Daenerys Targaryen, who is currently ruling Meereen. After a tryst with slave merchants he finally gets a meeting with her and offers up his services as an advisor.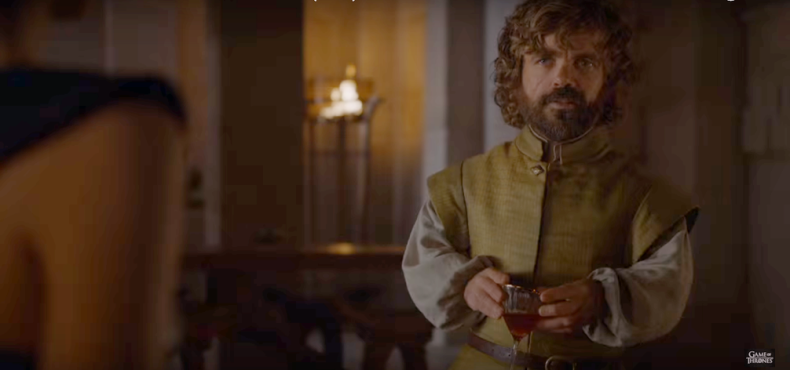 What to expect from season 6
Cersei Lannister has put a bounty on Tyrion's head so there is no returning to King's Landing. He has instead opted to work in the service of Daenerys and help her win the Iron Throne. Going by the trailers released by HBO, the young mother of dragons is in a fix of her own and it falls to Tyrion and her other advisors to rule Meereen in her stead. We know he has a proclivity for politics, but will the people of Meereen approve of a Lannister ruling over them?
Game Of Thrones season six will premiere on HBO on 24 April at 9pm ET.