In the run-up to Game Of Thrones' upcoming sixth season airing, HBO has been sharing small pieces of promotional material to get us even more excited than we already are. Its latest teaser video takes us behind-the-scenes of production.
In the new featurette, the focus is on the show's camera operators (note, the cool names such as Dragon Unit, Wolf Unit, and so on), with the creatives sharing their insights as well as what their job is and how they carry it out. But with so little out there so far to tell viewers about what will really happen in the next instalment, fans can't help but look between the lines at every opportunity they are given, and this teaser is no exception.
Arguably, the most notable moment is close to the end of the video, where two young boys are seen sparring in the Winterfell courtyard. Rumours have suggested these actors could be portraying a young Ned and Brandon (or Benjen) Stark in happier days, as seen in Bran's time-travelling visions.
You can also catch a glimpse of Emilia Clarke's Daenerys wandering in the wilderness with the Dothraki, as well as a meeting between Melisandre (Carice van Houten) and Davos (Liam Cunningham). Could they be discussing the resurrection of Jon Snow? We can hope as much. Meanwhile, there's also a quick shot of Peter Dinklage's Tyrion if you look closely enough. Check out the featurette below:
With the recently released posters, it seems safe to say that this season is going to be dark, with a fair few characters possibly meeting their demise. Speaking on the Oscars' red carpet, Sophie Turner who plays Sansa Stark hinted at this too, by telling Entertainment Weekly: "[It's] like flicking from death, death, death." She then teased fans even further by adding: "But I'm good this season," suggesting that her character at least might survive until the season finale.
There's been a serious emphasis on the Stark family in the promotional material so far which certainly ties in with the glimpses of potential flashbacks that we see in this latest featurette. However, we at IBTimes UK have our own theories as to why the Starks (and death) are involved in the posters and teasers etc. Of course, as every fan knows, Snow was linked with the Starks and was a part of their family, despite not sharing the same name. He's referred to as the bastard son of late patriarch Ned Stark throughout the show, but some believe that that is not true.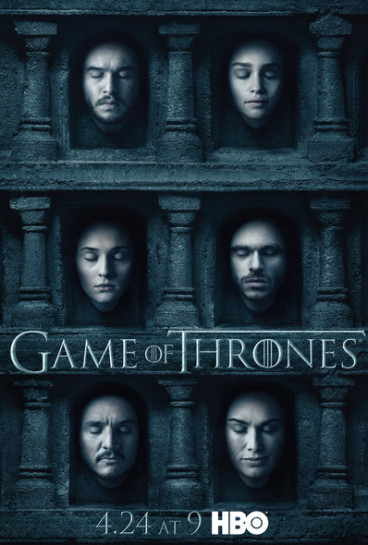 Anyway, there's a connection there, regardless, so when you think about the Starks, the next character you associate with them, is Snow. Unfortunately, the majority of the Stark family have now been killed off so if the teasers were going to concentrate on the deceased characters, purely by numbers, they'll likely be Starks.
We think the real emphasis of the teasers and posters so far, is to blur the lines between life and death, and to suggest that once you're gone, you're not necessarily gone forever. The tagline "all men must die" has been synonymous with the show since its earlier seasons and it always came across a little morbid and final.
But what if death doesn't mean the same to the world of GOT as it does in real-life? Basically, we think by bunging Snow's face in with various dead and alive characters, the posters and such is proving there are no real difference between the statuses and he could just as easily be resurrected as he was killed.
This may all be mere speculation for now, but it's also all we have to go on so far. Now that viewers can officially state that the new series starts next month, hopefully HBO will drop a proper, and much less cryptic, trailer soon. The Game Of Thrones cast is currently filming the upcoming season in various locations in Northern Ireland. The fantasy show will return to HBO on 24 April 2016.
For more entertainment news follow A-List on Twitter @Alistinsider