Ganesh Chaturthi 2016: Traditional foods to celebrate the birth of elephant-headed Hindu God
Hindus in India and around the world celebrate it by serving sweet dishes to the elephant-headed God.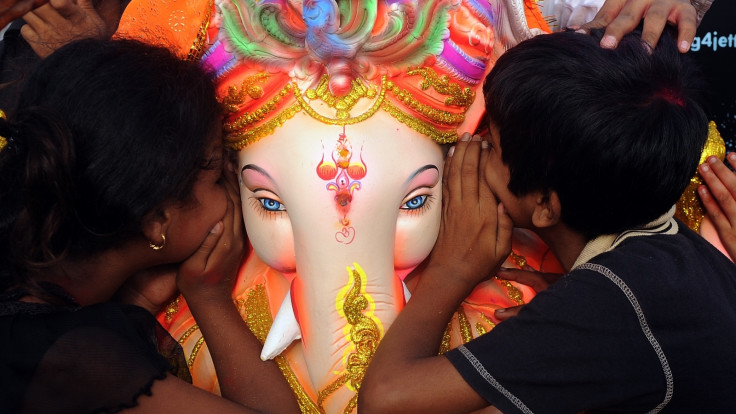 Traditionally festivals and celebrations in India are marked by feasting in the company of friends and family. And like every other festival, Ganesh Chaturthi, or the celebration of the birth of the elephant-headed God involves preparation of sweet dishes and traditional cuisine.
Celebrated on Shukla Chaturthi of the Hindu month of Bhadra, the festival usually falls between August and September. Hindus in India and around the world, will be in involved in 10-day festivities that commence on 5 September by participating in community worship or by bringing home idols of Lord Ganesha.
On the heels of the Ganapati festival this year, IBTimes UK has compiled a list of popular foods and dishes that can be prepared to celebrate the festival and distributed among guests.
1. Modak or steamed sweets
Lord Ganesha, the son of Lord Shiva and Parvati, is revered for his joyous aura and is usually served sweet dishes as a part of "bhog" or "prasad" – offered to devotees. In the western Indian state of Maharashtra and parts of the southern state of Karnataka, Ganesh Chaturthi is incomplete without traditional sweets also known as the Modak (steamed sweet dumplings). Prepared with rice flour, coconut and jaggery (dark brown sugar made of palm leaves) filing, which is also available in fried varieties.
2.
Coconut Laddoos
A typical Indian sweet, which is usually made during festivals in different shapes and sizes, is the coconut laddoo (laddoo refers to the round shape). During the Ganesh festival, this sweet is made with desiccated coconut and some form of sweetener – sugar or jaggery. It may even be mixed with condensed milk or milk solids for additional flavour.
3.
Puran Poli
Another popular dish from western India is Puran Poli, which literally means bread with sweet filing (Puran is the filling and Poli is the bread or Indian roti). Made with sweet lentil filling and jaggery, the dish serves as a wholesome meal specially when served with a dollop of clarified butter.
4.
Shrikhand
A dish that has evolved from strained yogurt, Srikhand has been rendered different flavours over the time. Fresh saffron adds to the bright yellow colour, while dry fruits, cardamom powder and sweeteners enhance the taste of the dish. Nowadays, this dish is even available as packaged variants.
5.
Karanji
Crunchy on the outside and sweet and flavoursome on the inside – Karanji is another variant of traditional sweets that is made especially during the Ganesh festival. The deep fried savoury sweet is also popular for its unique crescent moon shape and is a loved festival delicacy.
© Copyright IBTimes 2023. All rights reserved.