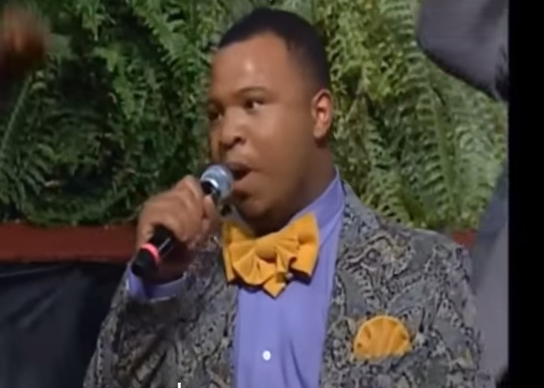 The man at the centre of a viral gay conversion video has slammed critics who claim his 'deliverance' from homosexuality was staged.
Andrew Caldwell became an overnight internet sensation after footage of him renouncing his homosexuality during The Church of God In Christ annual convocation was posted online.
In the 90-second clip, which has been shared hundreds of thousands of times, Caldwell can be seen yelling "I'm not gay no more," after Bishop Porter prays for him.
The congregation erupts into roaring celebration after he claims that he is no longer attracted to men and only wants women.
But not everybody was easily convinced by Caldwell's testimony. Gay rights groups as well as members of the Christian community accused him of being a con artist and planning the whole thing in a desperate attempt to get 15 minutes of fame.
Some even pointed out that he was arrested back in May on charges of "fraudulent insurance" and is preparing to release a book.
In a message posted on Facebook , Caldwell hit back at his critics and also revealed that he struggled with his sexuality for many years after being molested as a child.
"As a child, I was raped by a member of my own family. At that time I did not think of it as abuse. I kind of enjoyed it. I kept it to myself, not realising how it had changed me. Growing up wasn't a pleasant experience. I was harassed, heckled, and ridiculed by classmates," he wrote.
"Being fairly attractive as a young man, it was not difficult for me to get involved with other men. I have dated athletes, ministers, and celebrities.
"After joining my present church, it came to me that this lifestyle was not right. It seemed that the more I tried to quit on my own, the more intense was the temptation. All last week I fasted and prayed.
"On this past Saturday at the Convocation, there was an alter call. I came forward and offered my testimony. It was unscripted. Not only do I hope for my own deliverance but for the deliverance of others who may be struggling with their own issues.
"To my doubting detractors, I pray for you. To my supporters, I am grateful for your support and prayers," he signed off.
Caldwell says he is now hoping to help others struggling with homosexuality.
"One day...I believe one day someone is gonna sponsor me so I can have a conference and fill that place up and hear everyone's story," he said.