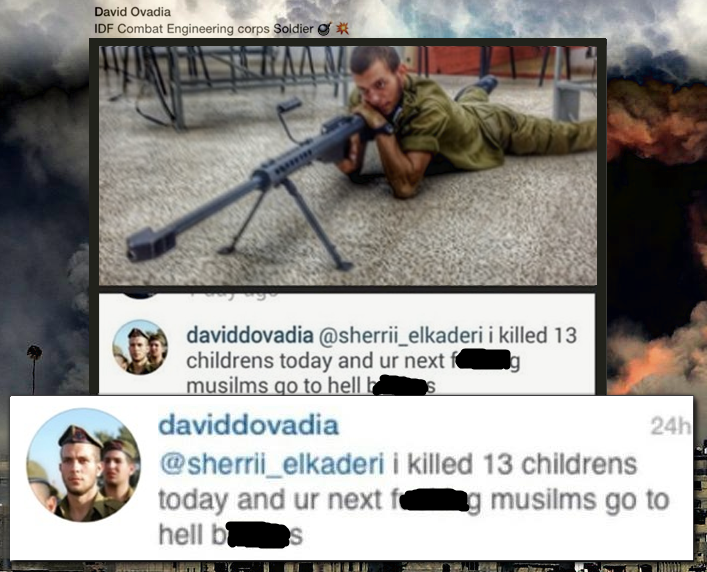 The Instagram post of an Israel Defence Forces (IDF) member who allegedly prides himself on having "killed 13 children today" has sparked outrage on social media.
David D Ovadia, an IDF combat soldier, allegedly wrote the message along with a picture depicting him with a rifle.
IBTimes UK was unable to independently verify whether the messages were written by Ovadia or not.
However, some people argued they are fake.
"Someone took a real soldier's [David Ovadia] FB photos & created fake social media accounts," said Twitter user Lahav Harkov, who writes for the Jerusalem Post.
The vast majority of civilian deaths in Gaza Strip, caused by Israel's Operation Protective Edge, have been the result of shelling and airborne rocket fire rather than IDF ground troops.
Sparking outcry, Ovadia is alleged to have written: "I killed 13 children today and you are next f*****g Muslims go to hell b*****s."
Shortly after the message was posted, Ovadia's account was made private.
In the same picture posted on Instagram, available through social media search engine Lakako, another tagline reads: "Stop running u gonna die anyway."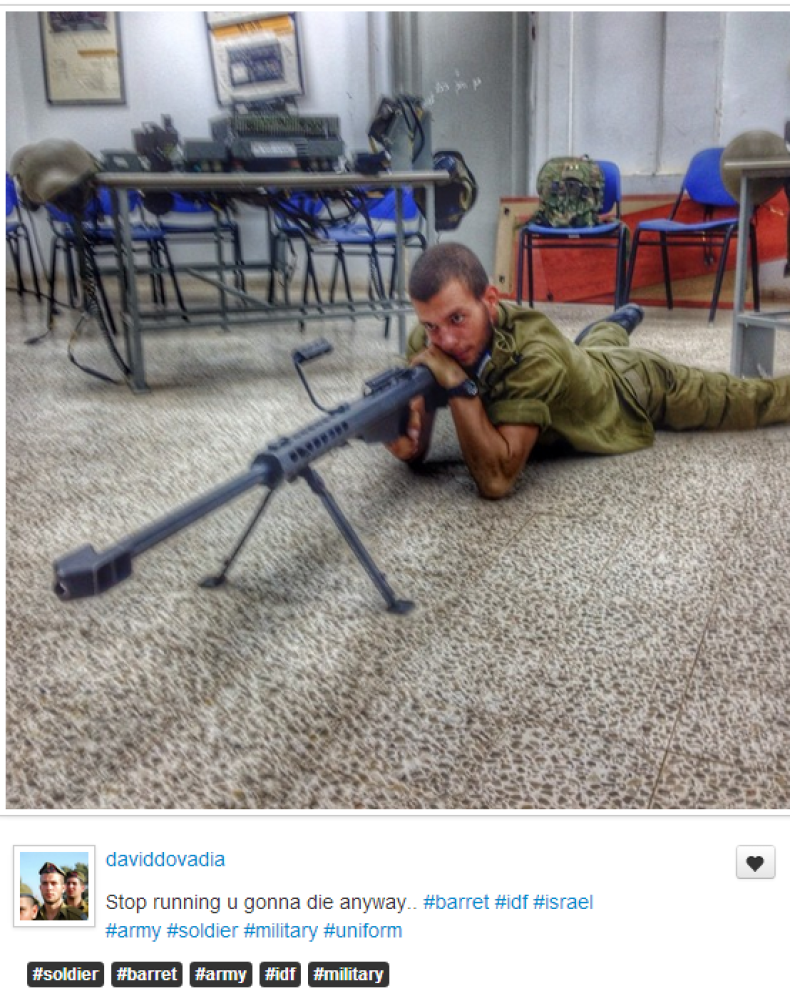 Hundreds took to social media to vent their outrage as the Palestinian death toll continues to rise in the ongoing Gaza-Israel crisis. Some netizens accused Ovada of committing war crimes.
The bitter conflict between Hamas and Israel over the Gaza Strip has been echoed on social media with angry campaigns by supporters of each side.
But on many occasions, the comments have been little more than black propaganda and hoaxes to smear the opposition as being brutal and immoral.
As IBTimes UK reported on July 21, graphic videos filmed of the horrors of the Syrian civil war have been relabelled and dressed up by both sides.
More than 1,200 Palestinians have been killed since the IDF launched Operation Protective Edge against Gaza on 8 July to restore calm in southern Israel after the firing of more than 150 rockets from Gaza into the country.
On 17 July, IDF expanded its operation with a ground invasion of Gaza, aimed at destroying Palestinian Islamist organisation Hamas' underground tunnels.
The UN warned Israel that it might be committing war crimes as at least 70% of the Palestinians killed were civilians.