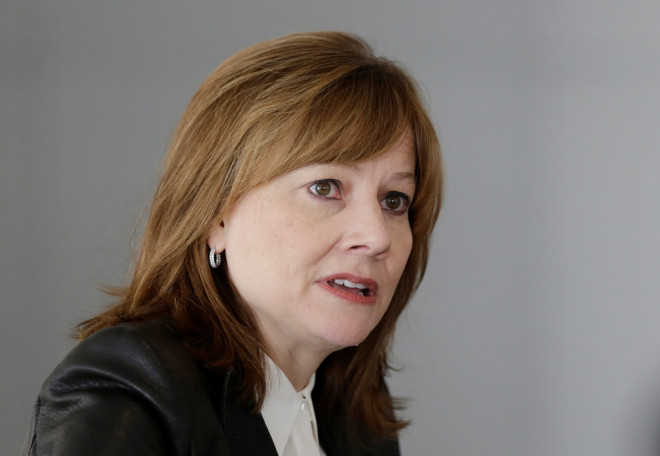 General Motors has announced the appointment of a new global safety chief, a day after it announced fresh recalls of 1.5 million vehicles.
GM CEO Mary Barra appointed Jeff Boyer in the newly created position of Vice President, Global Vehicle Safety, effective immediately, according to a GM statement.
Barra also admitted GM failed to catch faulty ignition switches linked to fatal crashes.
Boyer, who has spent nearly 40 years in a wide range of engineering and safety positions at GM, will now have global responsibility for the safety development of GM vehicle systems.
He will also be in charge of confirmation and validation of safety performance, as well as post-sale safety activities, including recalls, the statement added.
GM's stock was trading 1.16% higher at 11:01 hrs in New York.
In an earlier report, GM had said it was recalling more than 1.5 million newer crossover utility vehicles, luxury sedans and full-size vans.
The company said the latest recalls include 1.18 million mid-sized crossovers to repair an issue that could lead to the non-deployment of side impact restraints. It said it would repair the wiring harness of seat-mounted side airbags, according to a 17 March company statement.
The Detroit automaker says it has set aside $300m (£181m, €216m) to pay for repairs needed.
"Something went wrong with our process in this instance, and terrible things happened," Barra told employees in a video message posted online on 17 March , referring to the issue involving defective ignition switches.
Barra said: "I asked our team to redouble our efforts on our pending product reviews, bring them forward and resolve them quickly."
"That is what today's GM is all about."
In a note to clients issued on the same day as Barra's statement, Stifel analyst James Albertine said: "We think much is being made in the media about recent recall headlines, but in short, we believe GM is doing a good job balancing its ongoing investigation while taking steps to prevent further vehicle related incidents by proactively announcing new vehicle recalls.
"There is clearly a target on GM's back, in our view, given its highly publicized government-sponsored bailout and its industry-leading market share position."
Class action lawsuit
Last week, a US lawsuit kicked off class action claims against GM, America's leading automaker, with customers claiming that their vehicles lost resale value over problems blamed for several fatal crashes.
The proposed class action, filed in federal court in Texas, is the first lawsuit related to the recall of over 1.6 million older vehicles over defective ignition switches.
The lawsuit said GM had known about the problem involving faulty ignition switches since 2004, but failed to address it, creating "unreasonably dangerous" conditions for drivers of the affected vehicles.
The plaintiffs sought damages from GM that include compensation for loss of the use of their vehicles and repairs, alongside diminished resale value. They did not claim they were injured in accidents arising from ignition problems.
The plaintiffs in the lawsuit, Daryl and Maria Brandt, said they own a 2007 Chevy Cobalt, one of several models recalled by GM.