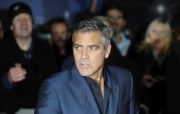 Movie actor George Clooney and soccer player Cristiano Ronaldo are among the witnesses for a sex trial starting next week involving ex-Italian Prime Minister Silvio Berlusconi.
One of nearly 200 people called for the trial, the Hollywood star is expected to support the defence's argument that Berlusconi's parties were only sophisticated affairs.
The actor and director said he had met the former prime minister on only one occasion. The trial involves three people who said to have recruited prostitutes for the 75-year-old media mogul who has just resigned as Italy's Prime Minister.
Berlusconi is already on trial for alleged abuse of office and paying to have sexual relations with Karima El Mahroug, better known as Ruby the Heart Stealer, a Moroccan-born exotic dancer who was allegedly working as an underage prostitute.
TV show-girl Nicole Minetti, showbiz agent Lele Mora and Emilio Fede, a television presenter for one of Berlusconi's channels, deny all the charges.
More than 50 actresses and models have been called to testify at the trial, some of whom allegedly dressed up as nurses and policewoman and stripped for the prime minister in un underground bunga bunga room at his mansion in Arcore, near Milan.
Also some politicians will be called including Licia Ronzulli, an MEP for Mr Berlusconi's People of Freedom Party, Rosario Rossi, an MP in his party and Mariastella Gelmini, who was his education minister until the government fell Saturday.
Also on the witness list is Mariano Apicella, a Neapolitan singer with whom Mr Berlusconi has produced several CDs of love songs, with the latest album expected to be released later this month.