A German jihadist accused of belonging to a torture unit dubbed the 'Isis gestapo' has gone on trial amid high security in Dusseldorf. The accused, Nils D, 25, was allegedly a member of an Islamic State (IS) group that tracked down and killed deserters. He was arrested after returning from Syria last year.
He is accused of being a member of a terrorist organisation and having planned "grave acts of anti-state violence" in Syria, Deutsche Welle (DW) reported. His surname has not been released in accordance with German law. Since his arrest, he is reported to have provided German authorities with extensive information about the inner workings of the terrorist group. He is one of a group of youths who travelled to Syria in 2013, calling themselves the Lohberger Brigade, after the town of Dinslaken in north western Germany where they came from.
Nils D allegedly spent 13 months in Syria, eight of which were spent in the death squad. He has given evidence in two trials against IS militants who returned to Germany and witnessed torture and executions by the group, though claims he never killed anyone himself.
Suddeutsche Zeitung reported last year that Nils D had revealed in police interviews that the unit had styled itself the department of internal security, and was based in the Syrian town of Manbij, around 50 miles north east of Aleppo. The unit was reportedly called the 'Isis gestapo' by German investigators.
He said that members of the unit held about 300 people in a special jail, where they were routinely tortured. He said public executions including beheadings were held daily, and he witnessed one prisoner being crucified.
Members of the unit received bonuses and were paid more than other IS militants, Nils D said. Among the German fighters he travelled to Syria with were his cousin, Philipp Bergner, who blew himself up in a suicide attack in 2014, killing 20 Kurdish militants, DW reported.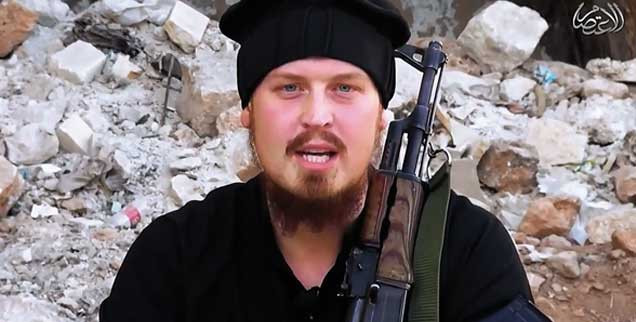 He reportedly began to speak to German investigators after they found a photograph on his mobile telephone of him holding his gold-plated Browning pistol to a prisoner's head. Since then he has helped to unravel networks of European jihadists, with Essen's police department spokesman Ulrich Fassbender telling reporters that as a result of his testimony, "We can reconstruct cross connections." If found guilty, he faces up to 10 years in jail.
According to German authorities, around 800 of its citizens travelled to Syria to fight for IS, with around 100 of these believed to have returned.