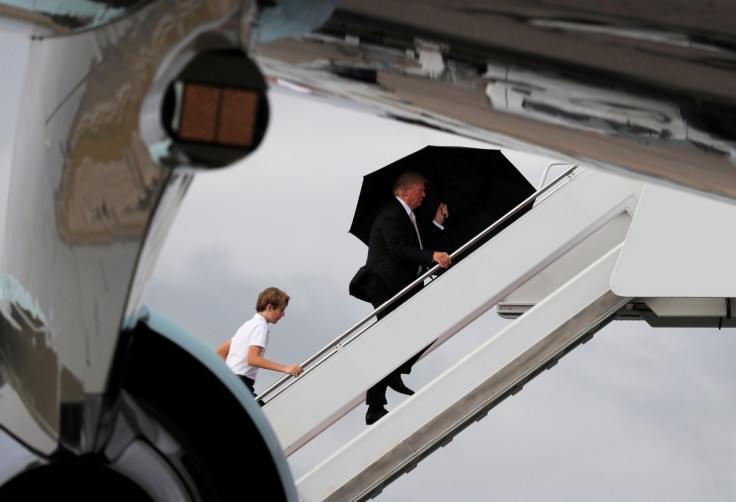 For Donald Trump, being the commander-in-chief means that you get sole command of the presidential umbrella.
Photos show the US president bounding up the gangway to board Air Force One in rainy Florida weather with his wife Melania, 47, and youngest son Barron, 11, trooping behind him unprotected from the rain.
Trump, 71, clearly had too much on his mind to think about family welfare at Palm Beach International Airport.
It is unclear whether he offered space under his giant-sized umbrella to his wife or son at any point as they prepared to leave his Florida resort, Mar-a-Lago.
Another photo shows a fastidious Trump closing his umbrella once inside the aircraft to ensure that at no point would he – or his famous hair – have to bear the full force of the winter weather.
Over the weekend, a holiday to mark Martin Luther King Day on Monday (15 January), protesters massed near his winter White House retreat to protest against the latest presidential controversy over deeply negative comments he was alleged to have made about Haiti and African nations.
A racism row broke out after the president reportedly used the word "shithole" to describe certain developing world countries.
He was said to have used the term during a bipartisan Oval Office meeting on immigration reform last week.
He reportedly said: "Why are we having all these people from shithole countries come here?" He argued instead that the US should encourage migrants from countries such as Norway.
He denied using that term although he did admit to "tough" language.
He told reporters yesterday: "I am not a racist. I'm the least racist person you have ever interviewed."