The global value for mergers and acquisitions (M&A) in 2014 has struck its highest annual level since 2007.
Global deal value to 11 December hit $3.27tn (£2.09tn, €2.67tn), up 40% from the corresponding period last year, according to Thomson Reuters data. That marks the highest level since 2007, when the total was $4.12tn amid a leveraged buyout boom.
Deals in 2014 were mainly driven by more guarded company boards, which used shares rather than debt to fund purchases.
Deal-making this year was buoyed by large deals in the telecoms, healthcare and consumer sectors, by transactions, some of which had been envisioned years ago.
Wilhelm Schulz, head of M&A in Europe, Middle East and Africa at Citi cited "the need to stay competitive and strengthen the core business" as the "main catalyst" behind the surge in global deal-making this year.
EU picture
Europe witnessed the emergence of unexpected but deep-pocketed 'left-field' buyers from developing economies, Reuters reported.
Chinese buyers had a particularly strong year in Europe, bankers said, targeting Germany's medium-sized manufacturers alongside distressed assets in southern Europe.
Paulo Pereira, a partner at advisory and asset management firm Perella Weinberg told the news agency: "China needs M&A to achieve true international expansion, beyond markets such as Brazil or Africa, and a wider access to technology.
Global trend
Mergermarket, in a 19 December report, said: "The active deal pipeline in Europe can probably be attributed to companies in the region slowly regaining their footing by seeking inorganic growth opportunities despite still-volatile global conditions that are now considered a matter of course."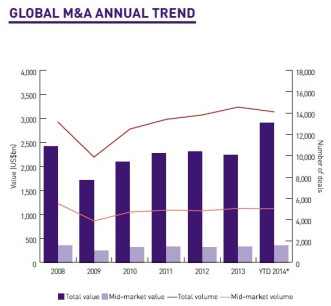 North America dominated the global deal-making market in value terms this year, Mergermarket data showed. As of 30 November, regional M&A deals reached $1.4tn, accounting for 48% of the total value of global M&A deals worth roughly $2.9tn as on that day.
However, Europe logged the highest share of M&A deals among all regions with 5,266 transactions worth $792bn, making up 37% of the global total of 14,092 deals as of 30 November.
By comparison, North American M&A deals reached 4,832, or 34% of the total number of transactions the worldover as of 30 November.
Asia-Pacific had about 23% of the global market with a total of 3,143 deals, Latin America had 3% with 482 transactions and the Middle East and Africa had roughly 3% with 369 deals as of 30 November.