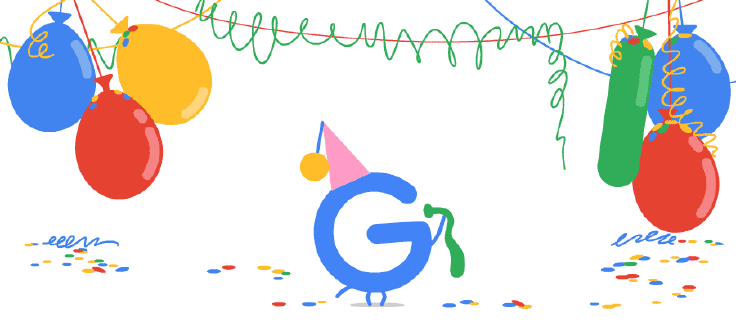 Google officially turned 18 on Tuesday 27 September and to mark the occasion, it released a special doodle complete with balloons, and the letter G in a pink birthday hat blowing up balloons that spell out the rest of company's name in full. However, there is dispute as to when Google's actual birthday is.
And it seems that even Google is a tad bit confused on its actual birthday as well. According to The Independent, Google has 'celebrated' at least six 18th birthdays already.
In 2004, Google marked its birthday with a doodle on 7 September. But in 2003, its birthday was celebrated on 8 September.
The Telegraph says that none of its birthdays celebrated so far "seem to have any particular relevance." The company was incorporated in 1998 - which it says is technically the nearest to a corporate birthday - on 4 September.
In 2013, even Google acknowledged that it was "not sure even we know," saying that it has celebrated its birthday on 7, 8, 26 and most recently the 27th of September.
But that did not really put off Google in picking a day to celebrate. "With a company that's got fun as deeply embedded in its DNA as Google, it seems fitting that any function would be a real bash," it said.
It also noted that although there may be "some differing opinions" on when its birthday really is, "one fun fact is that our first doodle was posted on 30 August 1998, even before Google was officially incorporated on 4 September 1998.
The concept for Google first emerged in 1996 as a research project at Stanford University where Google founders, Larry Page and Sergey Brin decided on a search engine that would rank pages by how many other sites are linked to it, rather than the format in use at that time of ranking them by how often the search phrase appeared on the page.