Google CEO Sundar Pichai recently declared that artificial intelligence fuelled by powerful computers was more important to humanity than fire or electricity. And yet the search giant increasingly faces a variety of messy people problems as well.
The company has vowed to employ thousands of human checkers just to catch rogue YouTube posters, Russian bots and other purveyors of unsavoury content. It is also on a buying spree to find office space for its burgeoning workforce in pricey Silicon Valley.
For a company that built its success on using faceless algorithms to automate many human tasks, this focus on people presents something of a conundrum. Yet it's also a necessary one as lawmakers ramp up the pressure on Google to deter foreign powers from abusing its platforms and its YouTube unit draws fire for offensive videos, particularly ones aimed at younger audiences.
In the latest quarter alone, Google parent Alphabet Inc added 2,009 employees to its workforce, putting the total at 80,110.
Over the last three years, it has hired a net 2,245 people per quarter on average.
That is nearly 173 a week, or 25 people a day. Some of the extra workers this year will be part of Google's pledge to have 10,000 people across the company snooping out videos and other material that violate the company's policies — but which computers cannot catch on their own.
That programme will lead to what Google calls "significant growth " in personnel.
Google will take on even more workers in the current quarter now that it has closed its $1.1bn purchase of part of hardware maker HTC, bringing onboard the 2,000-plus engineers who worked on the Pixel smartphone line.
On Thursday (1 February), Pichai spoke bullishly about content-checkers hiring. He said the investment had set up the company to capture growth.
Pichai said he saw consumers increasingly watching YouTube videos on connected TVs in their living rooms, providing lucrative growth for the digital video advertising that helps power Google's expansion. Google has tightened its standards after controversies over YouTube stars who made anti-Semitic comments or showed video of someone who had apparently died by suicide.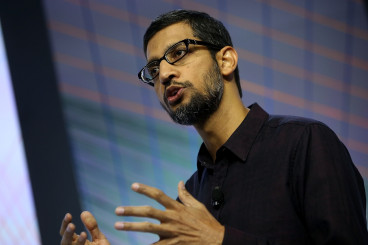 The company has limited which YouTube channels can show ads; vowed to manually review every video in its most popular channels for 18-to-34-year-olds; and will pay outside companies to ensure that brands do not have their ads positioned next to unsuitable videos.
"While there have been some concerns, we're working really hard to address them and respond strongly," Pichai said.
Some analysts are not so sure.
Collin Colburn, an analyst with market researcher Forrester, wondered how much of the recent changes were just window dressing at a company where hiring thousands of people amounts to little more than pocket change.
"I wonder if it's more of a move of optics rather than practicality," Colburn said, noting Google's "massive" double-digit revenue growth and cash hoard of $102bn (£71.8bn).
Revenue at Google parent Alphabet rose 24% from a year ago to $32.32bn. After subtracting advertising commissions, revenue was $25.87bn, exceeding Street forecasts of $25.65bn.
But the company swung to a $3bn loss from a $5.33bn profit a year earlier, reflecting the recent federal tax overhaul. Alphabet shares were down 2.3% at $1,141.42 in after-hours trading. Google's growing workforce has the company on a real-estate tear.
It recently opened up offices in Austin, Texas; Ann Arbor, Michigan; Boulder, Colorado; and is planning to open offices in Detroit. It broke ground in November 2017 on a huge office building in the heart of London, home to its DeepMind artificial intelligence unit, that will come complete with a rooftop running track.
Near its current headquarters, construction is under way on two futuristic dome-like structures infused with natural light, brimming with solar panels and set to open in late 2019. Google is negotiating with the city of Mountain View to add 10,000 housing units, many of which will be likely to be home to employees known as Googlers.
Pichai said the company intended to hire "thousands of people across the US" this year, build or open five new data centres and make "significant investments" in nine states.