Nexus 6 Key Features:
6in QHD screen with 1440 x 2560 resolution.
Android 5.0 Lollipop.
13 megapixel camera with Optical Image Stabilisation.
2.7GHz quad-core processor with 3GB RAM.
32GB storage.
Price as reviewed: £499.
---
Google Nexus 6 Review
---
The Nexus range of phones and tablets have always been synonymous with high-end specs, subtle design, and mid-range prices. But for the Nexus 6, Google has taken a different path and now finds itself selling a £500 handset with a massive 6in screen.
It's a brave move to compete in the still-niche phablet market, but with on-form Motorola as its manufacturing sidekick, this is Google's best chance yet to compete with Apple, Samsung, and Sony on a level playing field.
---
Google Nexus 6: Look and feel
---
A massive Motorola Moto X will be your first thought when you pick up the Nexus 6. It's a huge slab of smartphone, almost covering my entire hand with its slightly curved matt plastic back, and at 184g and 10.1mm it's heavier and thicker than the iPhone 6 Plus. That said, the Nexus has a screen half an inch larger than the iPhone - and it's water resistant without the need for port covers.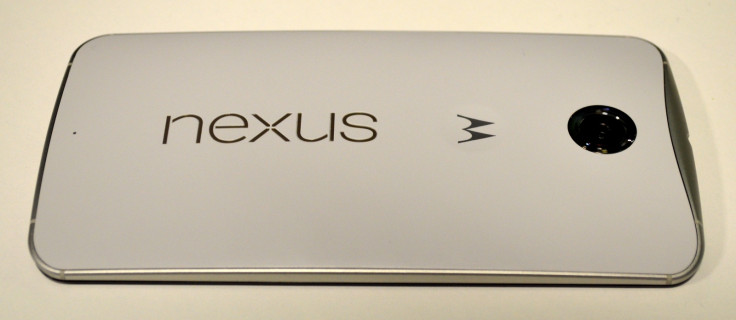 There's a metal frame around the outer edge which wouldn't look out of place on any other premium handset, while a subtle recess below the camera gives you somewhere to place your index finger and makes holding the phone more comfortable, as does the sunken and centrally mounted rear camera.
At £499 for 32GB of storage and £549 for 64GB, Google has kept cautiously below the £619 iPhone 6 Plus, but it's still a sizeable step up from the £299 Nexus 5, and thankfully Motorola's designers have produced a high-end handset to match the price tag.
It's just a shame Google doesn't offer a customisation service like Motorola's Moto Maker, and that matt plastic can feel very slippery - especially when you realise the phone is slightly top-heavy.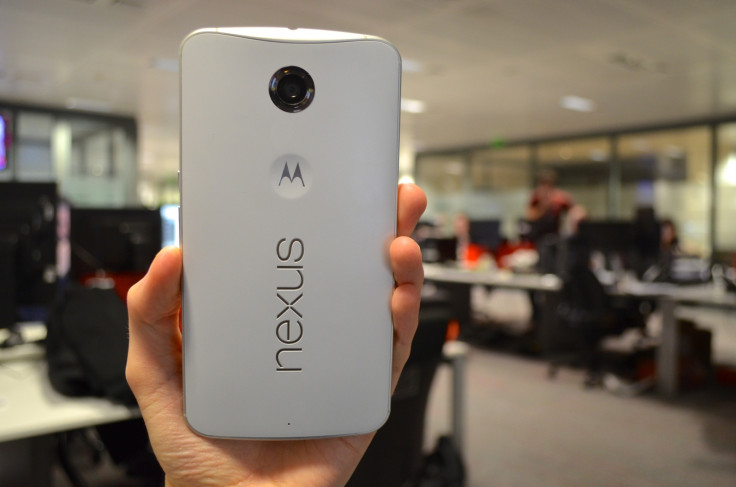 To compensate for its size, the screen lock and volume buttons are half way down the right side, just as they are on the newest iPhones, making them easy to reach, although pulling down the notifications and quick settings from the top menu bar is a stretch.
There are dual speakers above and below the screen, and the Gorilla Glass 3 panel tapers away at the corners, just as it does on the iPhone 6 and 6 Plus.
---
Google Nexus 6: Screen
---
The 6in screen has a QHD resolution of 1440 x 2560 and a pixel density of 493 per inch, putting it way above both models of iPhone 6, the Samsung Galaxy S5, Sony Xperia Z3 and all previous Nexus phones; only the Samsung Galaxy Note 4 and LG G3 offer a resolution this high.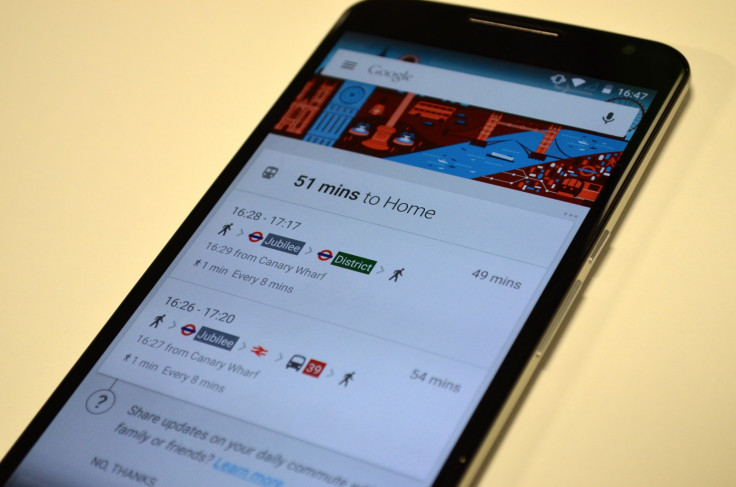 But pixel count isn't everything, and on closer inspection the Nexus 6, while mostly good, has a yellow tint to its whites which intensifies when viewed off-centre. Where iPhones tend to offer cooler, slightly blue whites, the Nexus 6 has a warmer palette, more saturated colours and less powerful backlight.
I wish Motorola had opted to use the best possible Full HD screen, rather than go for the headline-grabbing UHD resolution and its colour accuracy shortfalls.
---
Google Nexus 6: Software and performance
---
This is the first phone to be running Google's new Android 5.0 Lollipop out of the box. Lollipop is a major update for Android and includes a wide-ranging visual overhaul called Material Design. Punchy bold colours are everywhere, app icons have been revamped, and there's a whole new catalogue of transitions to make the user interface feel smoother and more immersive.
Google has jumped on the flat design bandwagon with Lollipop, meaning fewer drop shadows, simplified menus and switches, and a generally cleaner, fresher look with minimal clutter.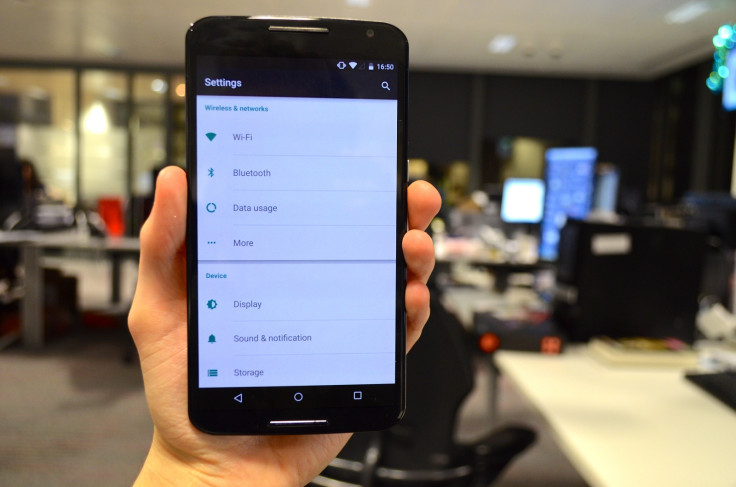 One of the most obvious changes is the lock screen. Gone is the 'swipe to unlock' widget, replaced with a notification centre which groups alerts by app. Certain apps can be hidden from the lock screen and there's the option to strip away sensitive content (sender name and message preview) from all of them if you so wish.
The quick settings and notifications panel have undergone a major cosmetic upgrade, with notification previews including thumbnails and resembling Google Now cards. Sadly you can't customise which settings appear here, and it takes a second downward swipe to get past your notifications into the quick settings, which isn't immediately obvious.
Apps all sweep up from below the screen when you open them, and the redesigned multitasking panel also resides there, making it feel like your apps are being dragged up onto the screen when you switch between them.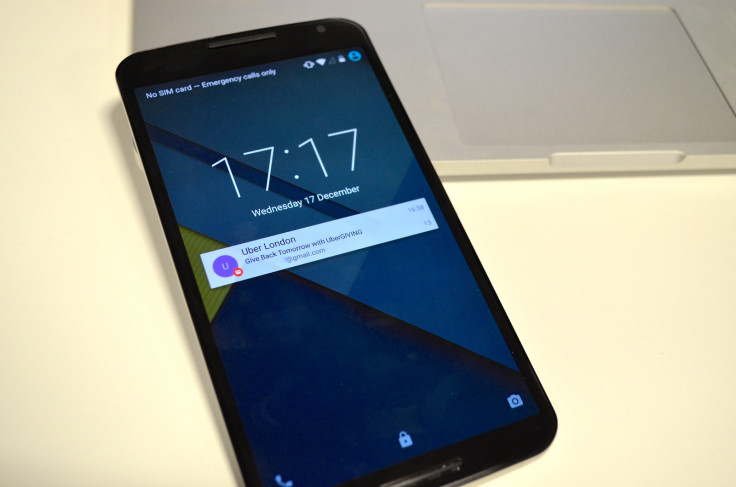 Performance is up there with the best any Android phone maker has to offer, thanks to a quad-core 2.7GHz processor with 3GB of RAM; it's the same Qualcomm Snapdragon 805 chip as used by the Samsung Galaxy Note 4 and performance is mostly excellent.
A huge screen normally translates to an equally big battery and good stamina, but powering such a high resolution screen almost entirely negates this. The Nexus 6's settings app often claims it'll last a full two days, but start using the phone and this seems highly optimistic.
An hour of streaming Netflix over Wi-Fi with brightness at 50% took 21%, which seems like a lot. The remaining charge would go on to cover an average working day, but you may well be reaching for the charger before the evening is over.
---
Google Nexus 6: Camera
---
Often the Achilles heel of Nexus handsets, the rear camera of the 6 is Google's best attempt yet. It has a 13-megapixel (MP) sensor with optical image stabilisation (OIS) and a dual LED flash which forms a ring around the lens. Daytime shots are very good, but in lower light where I hoped the OIS would work wonders, I was presented with grainy results no better than those taken by my OIS-less iPhone 6.
The app is very simple to use, but this also means there are few options to keep photography fans interested. Panorama does as you'd expect, while Photo Sphere lets you stitch shots together into a 360-degree image, like something you'd find on Google StreetView. Finally, Lens Blur produces shallow-depth-of-field images, where the point of focus can be chosen after the photo has been taken.
Any Samsung owners expecting a smorgasbord of features will be left wanting, but if it's simplicity you're after this is Google's best offer yet.
---
Google Nexus 6: Verdict
---
When Google started the Nexus range it clung tightly to its low-price trump card. The design wasn't premium and the cameras were poor, but the cheap prices made us forgive the downfalls and learn to love phones running pure Android.
But now that crutch has been taken away, leaving behind an exposed Google with nowhere to hide - and one which has left the safe mainstream market behind in favour of producing a 6in phablet. For doing this, and upping its game beyond the successful-but-unimaginative formula of a good phone with a low price, Google should be applauded.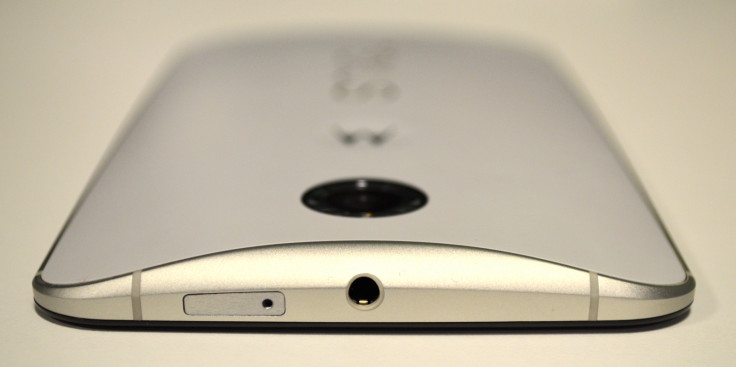 The Nexus 6's design is premium, its performance is excellent and Android Lollipop is a hugely attractive improvement over what went before. The screen should have put image quality above pixel quantity, the camera's low-light performance isn't what it could be, and there's no expandable storage.
But look beyond these faults and this is a truly impressive phone - I just worry that its huge size won't appeal to the masses as Google hopes.
Google Nexus 6 Scores:
Design: 8/10 - A premium look and feel only let down by its huge size and slippery back.
Build quality: 10/10 - Feels very well made and is waterproof without the need for covers.
Screen: 7/10 - Massive resolution makes video look great, but it's hindered by colour accuracy issues.
Software: 8/10 - Wide-ranging update gives Android an attractive new look.
Camera: 7/10 - Impressive in natural light, but let down by low-light performance and lack of features.
Overall: 8/10 - A well-made, high-class phablet running pure Android, but with some shortfalls.
The Good:
High quality design and build.
Best-looking Android software yet.
Excellent performance.
Water resistant.
The Bad:
No expandable storage.
Camera not great in low light.
Screen has a yellow tinge.