Google announced its first own-brand tablet, the Asus-built Nexus 7, at the I/O developers conference on 27 June. The Android 4.1 (Jelly Bean) running device will be released in the UK and UK in a couple of weeks, but before then iFixit has conducted a complete teardown of the new tablet revealing a number of interesting facts.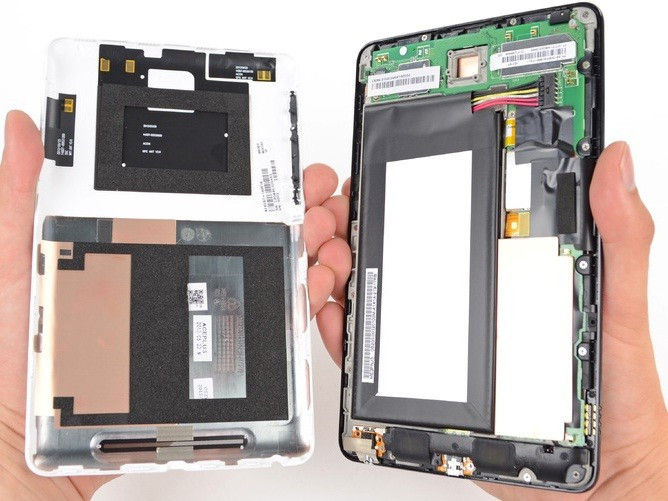 Starting with the physical dimensions of the tablet, iFixit says the Nexus 7 is thicker then the iPad. Apple's new iPad is 9.4mm thick whereas the Nexus 7 is one millimetre more, at 10.4mm. This extra one millimetre difference in thickness, while negligible, makes the Nexus 7 alot more repairable accoprding to iFixit, and thereby the device can get an extended lifetime. The GPS, NFC and Wi-Fi antennas are found inside the back cover whilch iFixit speculates mean they were made sometime between late April and May.
The Nexus 7 packs a huge 4326mAh battery that promises up to nine hours and 49 minutes whereas Amazon Kindle Fire's 4400mAh battery lasts seven hours and 42 minutes at most. While the new iPad's 11500mAh battery which runs up to nine hours and 52 minutes, the significant difference here is that the Nexus 7's battery is easy to remove.
There is a copper film found under the battery which could be a heat sink since it is made up of a copper alloy. The official product page says there is a speaker in the back and a pair of drivers can be seen after opening the battery cover.
The Nexus 7 packs 1GB of Hynix H5TC2G83CFR DDR3 RAM, the same model found in MacBook Pro with Retina Display. The device sports a 1.2 megapixel front-facing camera whereas the Kindle Fire features neither a front nor a rear-facing camera. In addition, the latest version of Google's operating system, Android 4.1, brings enhanced voice recognition for the tablet.
The L-shaped motherboard inside the Nexus 7 carries an Nvidia T30L Tegra 3 chip, the DDR3 RAM, Max 77612A inverting switching regulator, AzureWave AW-NH665 wireless module, Broadcom BCM4751 integrated monolithic GPS receiver, NXP 65N04 and finally Invensense MPU-6050 gyro and accelerometer.
The 7in 800 x 1280 HD display of the Nexus 7 is manufactured by Hydis and designated model HV070WX2. The Nexus 7 secured seven out of 10 in the Reparability Score.