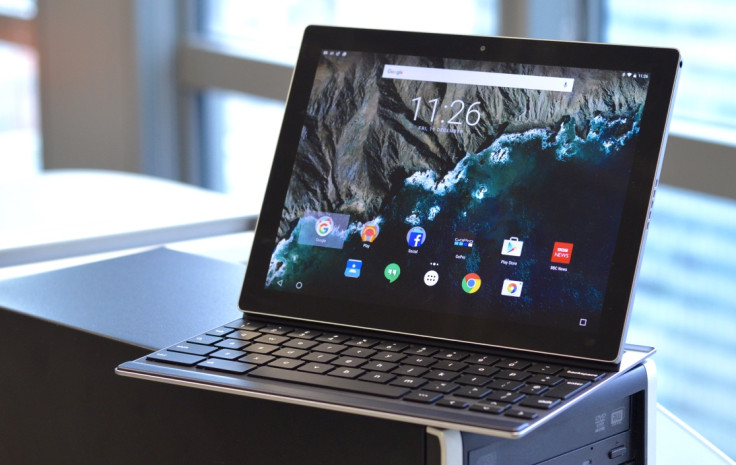 If ever there was a product with two sides to it, this is it. The Pixel C is Google's first tablet and, mirroring the Chromebook Pixel laptop, it sports an excellent design. The squared aluminium body feels tough and sturdy, the look is premium, and the whole device feels like it is exceptionally well made. If ever there was a tablet to be described as the Android iPad, this is it. It is beautiful.
It also has a superb 10.2in screen with a resolution of 2560 x 1800, producing a pixel density of 308 per inch; this is comfortably more than the iPad Air 2. There are also two internal speakers, which are nice and loud, 64GB of storage, 3GB of RAM, an octa-core processor, and it runs the new Android 6.0 Marshmallow. It sounds like there's a "but..." coming, doesn't it? Well hold on, there is more good news first.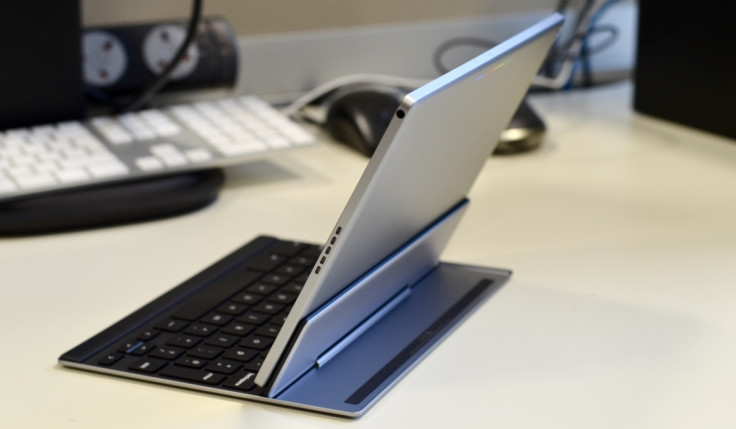 The Pixel C has a USB Type-C port for charging and, while it is a pain for now because the vast majority of non-Apple people only carry micro USB cables, the switch to Type-C will not take long. And when Type-C finally becomes ubiquitous, everyone will get to see their mobile devices charge as quickly as the Pixel C does.
Once charged, the battery lasts ages, with a full day of work possible. A really nice feature is how a double tap of the back of the tablet, when it is locked, will show the battery level on a light strip; when in use, this displays a Chrome logo.
Keyboard dock
For an extra £119 on top of the Pixel C's £399 basic price (for 32GB; this 64GB model is £479), Google will sell you a Bluetooth keyboard, which attaches to the tablet with magnets. It also has a sturdy hinge at the back that acts as a stand for the Pixel C, and, ingeniously, charges wirelessly when the tablet is closed shut against it. Google has stripped away some of the rarely used keys from the edges to create a keyboard with keys that are almost full size.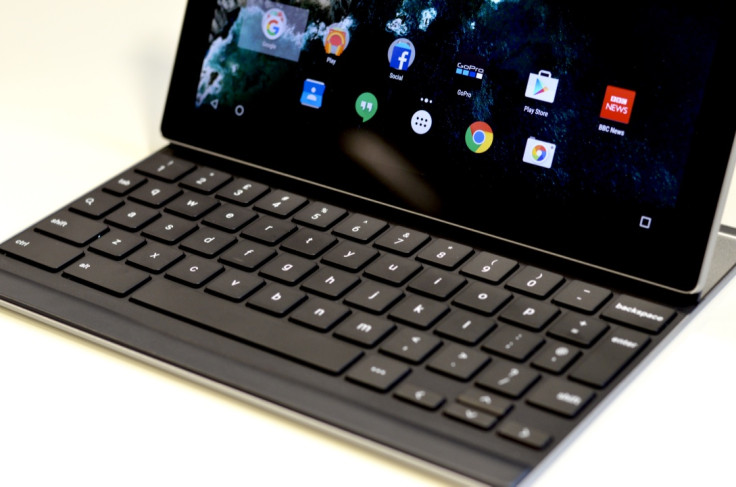 The lack of function keys will be a pain for some but for basic writing, it does not take long at all to get used to and begin typing quickly and accurately. The keys produce a nice, tactile click and have enough travel to be comfortable – and all without the dock becoming too bulky when closed up against the tablet. During my first day with the Pixel C, I felt it was crying out for a trackpad, but it doesn't take long to get used to touching the screen instead. If only the autocorrect was better, then I'd need to stop typing and reach up less often...
Connecting and detaching the Pixel C from its keyboard can be a bit of a chore. There is no groove to dig your fingers into, like there is when opening a laptop, and the symmetrical design means you will initially try to open it at the wrong end. That being said, the awkwardness of opening the tablet is overshadowed by how useful the hinge is. When set up as a laptop, the Pixel C is top-heavy, making it unstable to type on on your lap, or anything other than a steady table –but this is a problem shared by all tablets with keyboard docks.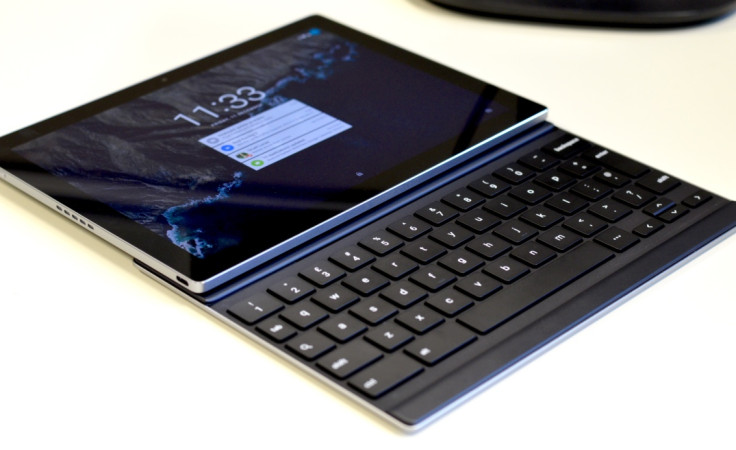 OK, here it comes...
But the Pixel C is far from perfect. It is let down by Android and its inability to work properly on a tablet like this. We tech journalists have been repeating this same line for half a decade now, but it is still sadly true. iOS is better on the iPad than Android is on any tablet, and Windows on the Microsoft Surface tablets is a genuine laptop replacement.
The app selection (or rather, the selection of apps that have been optimised for a large screen, and not just stretched) is fairly poor and Android simply does not do split-screen multitasking. The iPad does proper multitasking now, with two apps side-by-side and active at the same time, with a third floating video window on top, if you like. Windows on Surface tablets also does proper multitasking, too.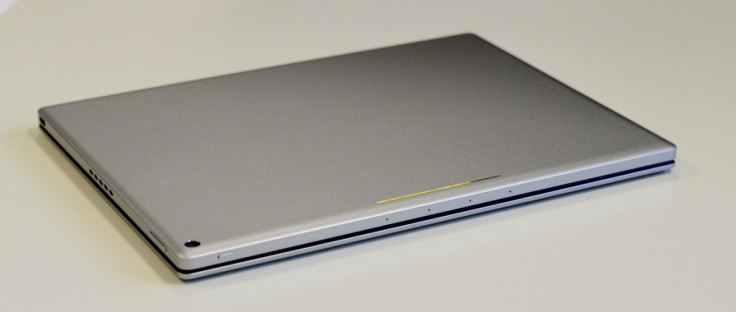 The Pixel C's Nvidia Tegra XI processor means it does a decent job of switching between applications quickly, but this is little solace for users who want two apps on screen at the same time. In this regard, the Microsoft Surface is streets ahead, and even Samsung's own Android tablets, such as the Tab S, score a point against Google and stock Android.
Take the keyboard away, save the £119 is costs, and the Pixel C is a really nice tablet a lot of the time. It will play videos and games, browse the web and do Facebook and Twitter as well as an iPad – but the keyboard dock is a clear sign that Google wants this to be about productivity as much as consumption. This is also clearly why Google sent both parts to journalists.
Our verdict
I admit to being an Apple fan who uses both an iPhone and an iPad on a daily basis, but I recognise these as two different devices used to do different things. The Pixel C feels too much like an Android phone with a big screen, and little more. I enjoyed writing this review on the Pixel C, but it felt like there wasn't much more the tablet could comfortably do, productivity-wise, without being pushed out of its comfort zone.
If you are looking for an attractive and well-made tablet with a really good screen, and which is not an iPad, then the Pixel C is hard to beat. Google should have stopped there, proud in the knowledge it is good at making hardware as well as software. But the keyboard speaks of a device that is trying too hard to be something it isn't, and something its own software is stopping it from being.
Google should either have stopped when it made the perfect iPad alternative, or carried on to make the perfect Microsoft Surface alternative. Instead, it stopped halfway between the two and made neither.
Scores:
Design: 9/10 - Really lovely design and build quality. Only let down by being fiddly to open and close.
Screen: 9/10 - Also excellent. High resolution, good size and aspect ratio, little to complain about.
Software: 6/10 - Android just is not ready to be used on a tablet trying to be a laptop. No proper multitasking is a killer.
Performance: 8/10 - Highly competent performance, but not quite as fast as its high-end design would have you think.
Pros:
Great design and build quality
Excellent screen
Keyboard has a lovely feel to it
Cons:
Lack of proper multitasking
Keyboard fitment can be awkward
No trackpad