Greek debt crisis: Australian to financially support pensioner pictured crying outside bank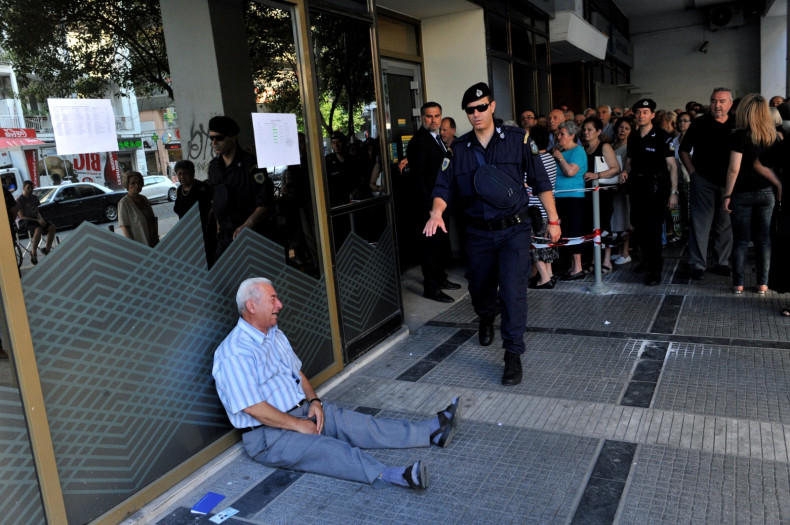 A Greek man pictured crying outside a bank after he could not withdraw a pension will receive help from an Australian businessman who recognised him in photographs as a family friend.
The image of Giorgos Chatzifotiadis, 77, weeping on the floor outside a bank in the city of Thessaloniki became one of the defining images of the current Greek financial crisis.
He had attempted to withdraw a pension of €120 (£86) on behalf of his wife at four different banks, but was turned down at all of them.
After the picture of Chatzifotiadis, taken by AFP photographer Sakis Mitrolidis, was seen around the world, Australian James Koufos noticed how much he looked like an old friend of his father, who died 18 months ago.
After speaking to his mother, who still lives in Greece, it was confirmed that Chatzifotiadis was indeed an old family friend.
"When I saw this, I said to mum, 'What can we do?'," Koufos told AFP. "I got my mother to take out some cash, to find the man and give him some immediate support."
After setting up a trust fund and asking for donations via Facebook, Koufos said he is now going to fly over the Greece from Sydney to meet Chatzifotiadis in person.
"We're going over there to surprise him and just give him quite a substantial amount of money," he said. "Plus, we're also raising some money from corporations ... who want to donate."
Koufus said he hoped to help other people affected by the financial crisis while he is over in Greece.
"We're dealing with a few places that deal with shelters in Athens and Thessaloniki to offer immediate support where we can with shelter and food," he said.