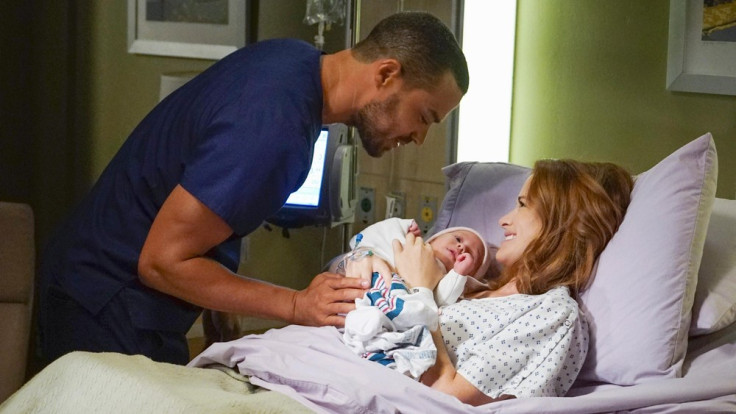 The premiere episode of Grey's Anatomy season 13 had immense drama as Alex misjudging a situation and delivered a few violent punches on Andrew DeLuca. But apart from all the commotion at the Grey Sloan Memorial Hospital, fans got see something very important happen in April's life.
Jackson's ex-wife was quick to snap at her former mother-in-law Catherine, when she decided to name the baby girl. Sarah Drew, who plays April on the show, teased that her character will only grow stronger in the current season and that she will go to any lengths for the comfort of her daughter.
"We never got to see April fight back or tell Catherine off for all of that drama that she caused last season," the actress told TV Line. "I think this was April's moment to be like, 'You know what? Back up. You are not in charge. I don't have to be nice to you, at all.' I loved seeing that side of April. It felt very good to be able to say something direct to Catherine."
Catherine had caused a friction between Japril earlier, but it seems like April has had enough of the drama and it is her time now to step up and protect her self-respect and her baby. "I think something happens when you have a kid — you don't take s**t anymore. All of the peripheral stuff that is buzz [ing] in your head just fades away, because you all of a sudden have this new focus. And, for April, that's what it's like with Catherine."
The couple got separated last season on a bad note, but thanks to the unplanned pregnancy and the dramatic birth of their daughter Harriet, they are reconciling to bring up their child together. Speaking about Jackson and April's romantic future, Drew said: "There's clearly still feelings there, but they're definitely not together," Drew maintains. "There's a carefulness that they have around one another in these first several episodes, because they don't really know what they are. It's challenging waters to navigate. In some ways, I feel like the audience is going to be like, 'Why aren't you guys just getting back together? What is wrong? Where is the conflict?"
However, she also cautioned fans not to over expect anything. "But you have to remember the conflict that built up over the past two seasons still exists, even though we're in this new tender space."