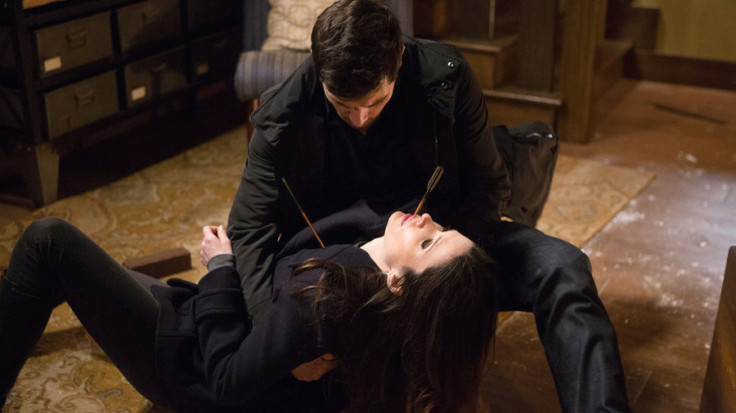 Grimm season 4 ended on a rather shocking note, when Nick finally realised that Juliette was behind his mother's death and goes after her to take revenge.
However, in the finale episode, when Nick was about to avenge his mother's murder by strangulating Juliette to death, she begs him to go ahead and do it, but he refrains.
Juliette then turns into a hexenbiest and tries to kill Nick, when Trubel enters the scene says "Goodbye Juliette", and fires two arrows from his crossbow at her. Nick, then immediately holds his love in his arms as she dies of the wounds.
But has Nick's love Juliette, actually died?
Going by similar scenarios earlier on the show, wherein Captain Renard was killed, but returned from dead last season, fans could expect Juliette's return in season 5.
Another possibility could be that it is only Juliette's hexenbiest side that has been killed and that she may return as her normal self.
Bitsie Tulloch, who plays Juliette took to Twitter and thanked fans for making the show a massive hit. And while, replying to some of them, she hinted that her character could return in season 5.
Meanwhile, Grimm showrunners David Greenwalt and Jim Kouf spoke at length about the season 4 finale.
"Juliette is dead," Kouf told TV Line, while Greenwalt noted, "Sure looks like it."
When asked if Tulloch would be returning on the show, Kouf responded vaguely, "It's a good question. The answer is ... possibly not."
"I think it keeps everyone on edge. You don't know what's going to happen," Kouf teased of Juliette's return and Greenwalt added, "Anything could happen. It seems like a few shows, episode whatever, they get married or they finally get together. We decided to go a different way."
Sure the showrunners, intend to keep fans guessing all through season 5, whether or not will Juliette return in the fall.
Greenwalt also told The Hollywood Reporter: "As she, you know, turned into a Hexenbiest and went kind of wild and then started enjoying her powers and then felt so betrayed by Nick having Adalind's baby even though it wasn't Nick's fault... it was just the natural way she grew and developed in the course of the season and it seemed like that was something inevitable that had to happen."
Does this mean season 5 will be much more darker than the previous seasons?
"I totally agree that it's going to change the show's course. I think it's going to be even darker still in a way. You know, it's not going to be the same Grimm" Greenwalt said and added, "It's not the same dynamic anymore."
When asked what kind of storyline did he see for Nick in the next season, Greenwalt replied, "Pretty serious repercussions and at the same time he's got a lot on his plate. I mean Adalind is having that baby it sure looks like and he's going to have a lot to deal with."