Sinister items once owned by some of the world's most notorious killers are fetching increasingly high prices on internet auction sites.
Locks of hair, false teeth and other possessions once owned by mass murderers and child rapists whose heinous crimes shocked the world are just some of the so-called "murderabilia" items contributing to a booming business for a growing number of specialist sites.
In the UK, demand for murderabilia is high, and collectors can pick up a range of items to suit their individual tastes from both niche websites and top auction houses such as Christie's, which are also keen to capitalise on the trade.
On one auction site, collectors can snap up a pair of knickers signed by its former owner Dana Gray, who strangled and knifed three elderly women in 1994.
On another, a letter handwritten by Moors Murderer Ian Brady is available for sale for £82, while a letter typed by Dennis Nilsen, who murdered 15 young men in London, has a starting price of £91.
British murderabilia collector John Schwenk said he has noticed an increase in competition and prices in the UK for the disturbing items.
"It's a cut-throat hobby," Schwenk told The Sun. "People want things that others have. If I get [Ian Brady] items, they sell very fast and very well. Dennis Nilsen is very popular and sought after."
Schwenk spends around £1,800 a year on his collection, which includes a pair of dentures that at one time grinned from the face of serial killer Billy Lee Chadd, who referred to himself as the "Death Merchant".
Schwenk, a 46-year-old truck factory worker, obtains many items directly from jailed killers, who send them as birthday or Christmas gifts, and he then sells them on.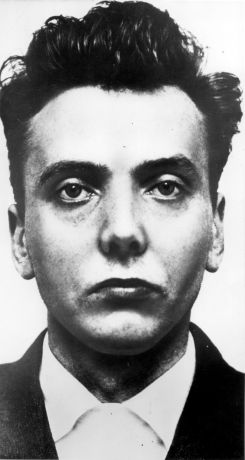 Murderabilia collectors can even purchase skin scrapings from the feet of various killers and fingernail clippings of Roy Norris, who tortured and raped five women in California in 1979 for the bargain price of £7.90.
But it is the most notorious American serial killers who fetch the highest prices. Original courtroom sketches of Ted Bundy, who killed at least 30 girls and young women in the 1970s, is available for £730 and a note sent by the murderer requesting fruit pie from a jail canteen was recently sold for £2,374.
Paintings by John Wayne Gacy, who raped and murdered 33 boys and young men in Chicago in the 1970s, can fetch up to £18,000. The paintings depict Pogo the Clown – a character the killer used to dress up as for children's parties. Gacy was executed in 1994.
Meanwhile, a pocket watch that belonged to 1900s killer Dr Crippen sold at Christie's for £10,000.
"I've had a few people say it's a sick hobby and [ask] why I would want to glorify a killer," Schwenk said. "To me, I'm not glorifying them. I don't think what they did is in any way appropriate."