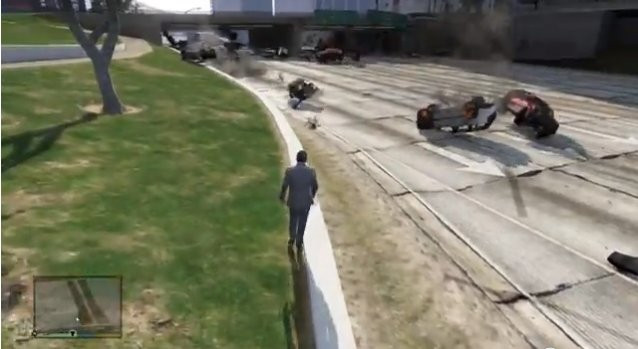 A discerning GTA 5 modder, taltigolt (of Tsunami Mod fame), has created the ultimate killer machine in the game with Carmageddon Mod that lands the often quiet and peaceful city of Los Santos into utter chaos as massive destruction and disorder prevails on the streets with cars flying from all directions.
One glance at the video published by the modder makes you wonder if there is any safe haven left to hide yourself from the devastatingly destructive and life-threatening army of cars that run amok in the chaos-ridden streets of southern California.
The Carmageddon mod brings you a heady experience of wild cars and trucks often spinning out of control, taking crazy turns, flipping over and catching fire or exploding without notice.
There seems no better way to get killed in GTA 5, as you would have thought there is barely any challenge from the peace-loving and law-abiding people of Los Santos and Blaine County.
If you are looking for some live action with the Carmageddon Mod, check out the video below:
If you are still not convinced after watching the video, try out the Carmageddon Mod on your console. Download Carmageddon mod for GTA 5 here and for GTA 4 here.