Rockstar Games recently rolled out the highly-anticipated Ill-Gotten Gains DLC for GTA 5, while the internet is already abuzz with talk of best supercar showdown between Adder, Zentorno, and the newcomer Pegassi Osiris, which was released with the new DLC.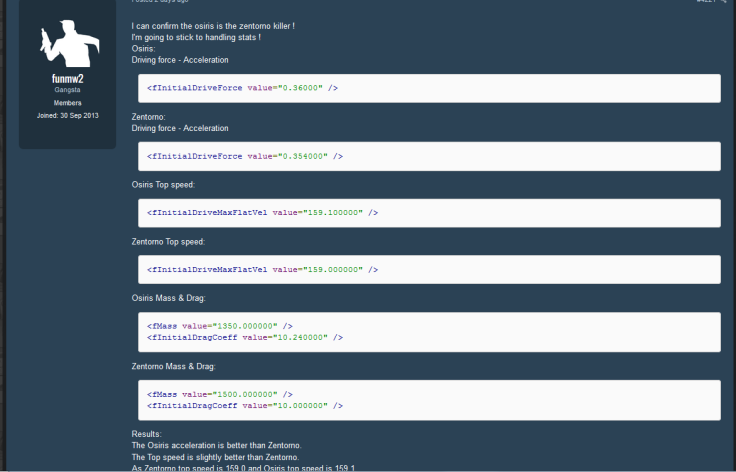 As the renowned YouTuber, MrBossFTW (aka Ross), explains in his latest gameplay video, the GTA community is now abuzz with the big question concerning the best supercar in GTA Online as the new Pegassi Osiris faces other supercars, Adder, Zentorno, Turismo R and the Entity, in the Ultimate showdown for supercars.
Prolific GTA 5 tipster, Funmw2, has recently revealed the speed comparison tips between Pegassi Osiris, Adder and Zentorno, including their acceleration, top speed, mass, and drag capabilities.
It is ascertained that this piece of information was obtained by Funmw2 via the in-game code strings associated with the speed of each supercar and later the same was tweeted by TezFunz online.
The orisis (Zentorno Killer). Better acceleration than Zentorno. Lighter than Zentorno. Better top speed than Zentorno.

— TezFunz (@TezFunz2) June 10, 2015
According to the tweet, the Pegassi Osiris has been touted as the Zentorno killer with better acceleration, lighter body and better top speed than the Zentorno.
In response to another fan query, Funmw2 has tweeted that the Osiris has a top speed of 159.1mph, while the Adder's top speed is 160mph.
However, the tipster also suggests that the mass and drag, and drive force of a car also affects its speed.
In other words, it means the Adder clearly wins over the Osiris with its greater top speed. However, the Osiris is lighter and also boasts better acceleration than the Adder.
Contrary to earlier scepticism, it is now confirmed that the Osiris is simply the new king of supercars as Zentorno is better than both Adder and Entity, while Osiris is better than Zentorno. Hence, it is safe to say that Osiris is way better than all the existing supercars in GTA Online.
It is anybody's guess that apart from the supercar's top speed and acceleration, a lot of other parameters such as weight of the car, handling, traction, ground clearance and suspension mechanism will make a critical impact on the chances of winning a race.
So, it is up to the individual to choose his favourite car based on his driving skills and instincts.
Do let us know which is your favourite supercar in GTA Online and why? Please leave your comments below.
Also, check out YouTuber iCrazyTeddy's exhaustive gameplay video that reviews speed comparisons for Pegassi Osiris and Zentorno: