Freshly leaked GTA 5 single player DLC rumours enter spotlight, as news of PS4 exclusive content coming to story mode makes waves on gtaforums.
According to Gameranx, it is not yet clear if the rumours are from the same source which claimed PS4 exclusivity sometime back, or if it is an independent source.
It may be noted that PS4 exclusivity actually translates to time exclusivity and hence the rumour should be taken with a pinch of salt, as the proposed DLC may not really be PS4 exclusive.
The long-rumoured Casino DLC has been reconfirmed by the source with the addition of a couple of new names for the Assassination missions, assassin_skydrive and assassin_cablecar, which were found in the leaked source code headings.
The report adds that Casino DLC will contain more than one casino with three minigames, 12 new assassination missions, new IAA missions, Trevor missions, etc.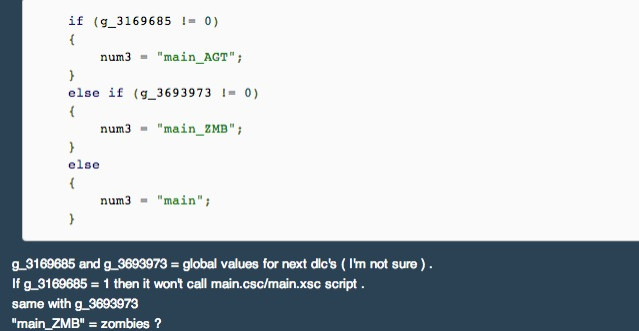 There is also a hint of Zombie DLC in a certain section of the source code which reads "main_ZMB", wherein the term ZMB could actually refer to the Zombie DLC.
Though it is not clear if the Zombie DLC would make its way into GTA Online, the source code clearly hints at probable Zombie content for GTA 5 story mode.
Rockstar is yet to officially comment on the legitimacy of these leaked DLCs and clarify the possibility of releasing them in the near future.
Nevertheless, we could just hope for a big surprise (Heists or some other DLC) from Rockstar with the release of a re-mastered edition of GTA 5 for PC, Xbox One and PS4 in September.