GTA 5 Online 1.16 Update: Fastest Double Money and RP Glitches, Make $25,000+ Every Three Minutes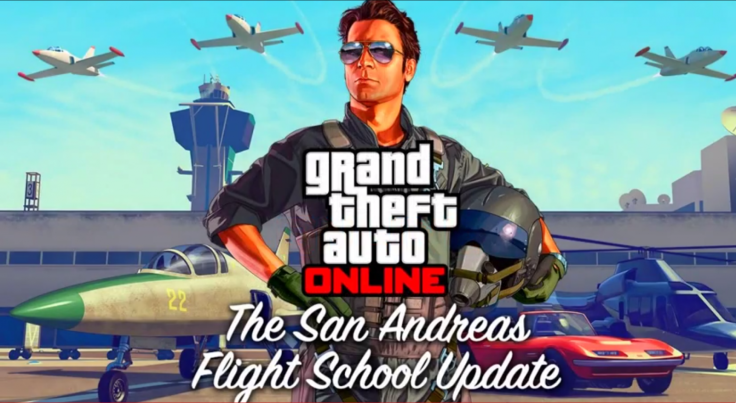 Avid GTA 5 gamers are in for more good news as discerning YouTube tipsters, iCrazyTeddy and TwoDynamic, have revealed a bunch of new unlimited money and RP glitches in GTA Online, following the newly released 1.16 update.
Rockstar recently announced the Double Money and RP weekend event to mark the celebrations of newly released San Andreas Flight School DLC in GTA Online, while discerning gamers and tipsters have been busy unearthing new ways of minting money using the Gang Attack missions which is part of this event.
As iCrazyTeddy notes, it is possible to mint unlimited money via Gang Attack missions in GTA Online even after the weekend event gets over on 24 August (Sunday).
How to Make Money and Rank Up Fast via Gang Attack Missions
Here is how you do it:
Just initiate a random Gang Attack mission in Flight School DLC by reaching the earmarked location on the map (see video) via Double Money and RP weekend event hosted by Rockstar in GTA Online.
Pull out your favourite Assault Rifle and start taking out your enemies one by one from outside the fencing.
Note: You may randomly choose between the Gang Attack missions located at the Los Santos Airport and the Blaine County Airfield for your money minting spree.
The catch here is to trick the game mechanic to think that we have not killed all the gangsters in the course of the mission and forcing the mission to restart after getting yourself killed by the last gangster to be standing.
In addition, every single kill performed during this mission will fetch you double RP and every crate you destroy will get you double money.
Right at the moment, when you are killed by the last gangster left in the mission, just go to the PlayStation Network or Xbox Live Game Store and then exit the game from there.
This will force the entire horde of gangsters to respawn at the same location and you get unlimited opportunities to keep repeating this glitch to earn unlimited money and RP using the glitch in the game.
In related news, the same tipster reveals more money minting missions to exploit the in-game glitch for making millions of $GTA in just a few minutes.
One such mission is known as Shooting Range, which has the potential to earn you more than $25,000 every three minutes with the help of a military helicopter.
The mission is available through San Andreas Flight School DLC and presents you an opportunity to earn $22,500 payout as well as 1,250RP every time you complete the mission.
Tip #1: Just drive the buzzard attack helicopter as close to the target as possible as this one lacks badly in accuracy.
If you are still unsatisfied with the payout earned in the above two methods, you could try the easy Pegasus car duplication glitch by TwoDynamic (below) to mint unlimited money in GTA Online.
© Copyright IBTimes 2023. All rights reserved.