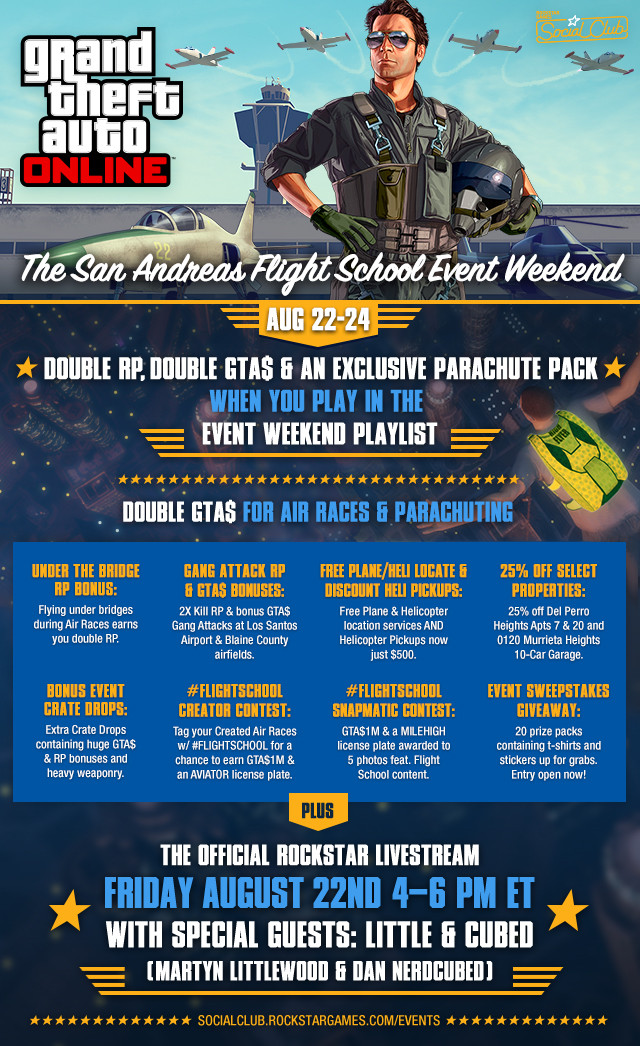 Rockstar has just announced the San Andreas Flight School event weekend with Double Money and Double RP bonanza starting 22 August (Friday) till midnight of 24 August (Sunday).
The bonus GTA$ and RP weekend event is scheduled to start on 22 August at 4PM ET, wherein discerning GTA Online gamers stand a chance to earn double GTA$ for all air races and parachute jumping events featured in the event weekend playlist.
Key attractions of oncoming event weekend for Flight School DLC are as follows:
Under the Bridge Double RP Bonus
Take that extra risk offlying under bridges during Air Races and earn double RP for the massive effort.
Gang Attack RP and GTA $ Bonuses
Earn double RP for kills and bonus GTA$ in special gang attack missions at international airport hangar, and Sandy Shores as well as Grapeseed airfields throughout this weekend.
High Flyer Parachute Pack – Exclusive Unlockable for Weekend Event
Just complete the San Andreas Flight School Event playlist this weekend and head over to Ammu-Nation to grab your prized scalp, the High Life Parachute Bag for free.
You can equip it from your inventory via interaction menu.
Double GTA$ for Air Races and Parachute Jumps
Just put your unique flight skills to stern test during air races and perform exemplary parachute jumps to earn double GTA$ in new Rockstar created jobs and missions for the Flight School update.
Exclusive Discounts on Select Luxury Properties and Aviation Services
Avail exclusive 25% off on select luxury apartments such as the high rise Del Perro Heights Apts 7 and 20, and 0120 Murrieta Heights Properties during the weekend event.
Enjoy the expansive 10 car garage to store all your exotic rides including the brand new Invetero Coquette Classic.
Exploit the privilege of Lester's free aviation services including the ability to locate planes and choppers for you all weekend.
Tired of flying the chopper yourself? Just hire a helicopter pickup service from Merryweather at half price and sit back and enjoy your ride through the weekend.
Bonus Event Crate Drops
Watch out for those GTA life-saving and life-changing resources falling from the sky, as the bonus event Crate Drops bring you extra GTA$, RP bonuses, Miniguns, RPGs and Sticky Bombs through the weekend.
#FlightSchool Snapmatic Contest
Five most inspiring and amusing pictures shot in Flight School DLC will stand a chance to win GTA$1m cash and a MILEHIGH vanity license plate for all your rides in GTA Online.
Besides, your prized acquisitions will be featured on the Newswire for free publicity.
To participate in the contest, just log in to Rockstar Social Club and tag your best photos with #FLIGHTSCHOOL during the weekend event.
#FlightSchool Creator Competition
Five unique and most challenging user-created aviation jobs or air races will be chosen for Rockstar Verified Jobs collection. The creators of selected jobs will receive GTA$1m and an exclusive AVIATOR license plate.
To participate in the event just tag your custom Air Race jobs with #FLIGHTSCHOOL in Rockstar Social Club anytime between Friday and midnight of Sunday.
Rockstar's Official Event Weekend Live Stream
Enjoy the live video streaming of the weekend events via Rockstar's official YouTube channel as well as on Rockstar Games Twitch TV, besides live updates on Social Club events page.
The live streaming broadcast event will kick off at 4pm on 22 August and continue through the weekend until midnight of 24 August.
Gear Giveaway Sweepstakes
Enter the grand weekend sweepstakes to win up to 20 deluxe GTAV and Rockstar T-shirt Prize packs including the Trevor Philips Industries Tee, San Andreas Federal Reserve Tee, Los Santos Lifeguard Tee, Republican Space Rangers Tee,Bugstars Logo Tee, Los Santos Tee, the GTAV & V Logo Tee, Kifflom Tee, Rockstar Rolling Long-Sleeve Tee, Rockstar Mason Tee, and the Rockstar Flowers Tee.
Users experiencing any technical issues in relation to the new 1.16 update are advised to contact Rockstar support site for assistance: https://support.rockstargames.com