GTA 5 Online Heist DLC: 1.17 Update Wishlist - Ski Mask, Police Uniforms, Chainsaw and More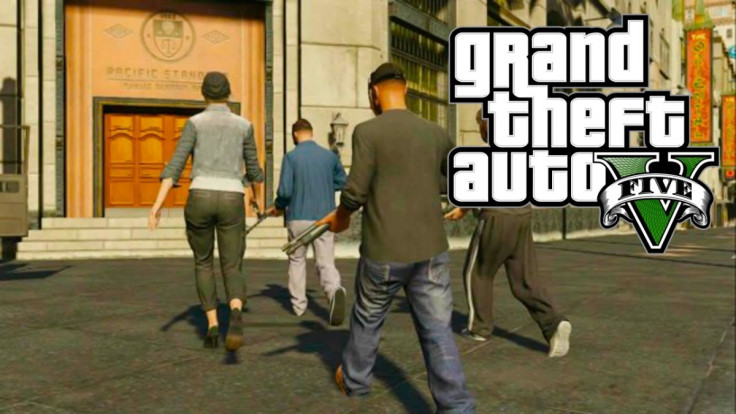 The long-awaited Heist DLC has been indeterminately pushed back by Rockstar Games, while avid GTA 5 gamers and tipsters are busy formulating a gigantic wishlist for the upcoming 1.17 update in GTA Online.
The new 1.17 wishlist for Heist DLC features Ski Mask, Police Uniforms, Chainsaw and more as renowned YouTuber, DomisLive (aka Dom), has posted a consolidated wishlist, including most desirable gameplay elements specified by his YouTube channel subscribers via Twitter.
Here is the gist of most-anticipated wishlist for the impending 1.17 update for GTA Online:
Armoured Trucks and Swat Team in Heist DLC
First up on the wishlist is the weird ability with armoured trucks to ram the doors down, while another GTA 5 gamer proposes the idea of assuming the role of a swat team member or a cop in GTA Online, during one of the Heist missions.
This one is definitely an exciting prospect, given the ability to dress up a human player as a cop or a swat commando alongside a few NPCs in the game. Besides, the presence of human players in law enforcement authority will surely make the Heist missions more challenging and interesting at the same time.
The best part of this idea is that one cannot guess if the cop or swat officer is a human player or an NPC with player names being disabled in the room, which brings an element of surprise and deceit.
Crew vs Crew Mode for Heists
There could be a tournament or competition sort of Crew vs Crew Heist missions, which could spur more interest and excitement in the game. Besides, it could bring more fanfare as well as increase the longevity of the game.
The presence of human players in the game would certainly bolster the complexity and the level of competency in the game, as NPCs could be easily defeated in any Heist mission.
Realistic Police Response Time to Bank Robbery
Along the lines of real-life cops, the in-game police are expected to consider the complexity of the task and evaluate the situation before giving a proper response to various bank heists or robbery incidents.
In other words, it does not make sense if the response sounds monotonous or pre-recorded regardless of the situation or crime committed in the game.
As the tipster notes, the average response time taken by the cops in real-life goes up to 11 minutes. This implies the in-game cops would logically take around 4 to 10 minutes to respond appropriately for various complaints.
In addition, it would be a great idea if cops would change their reaction strategy in response to various crimes committed in the game.
For instance, there should be an element of surprise in the way they try to capture the thieves or block the exit using different strategies every time, rather than standing at the same place or in front of the bank for every Heist mission.
New Clothing, Custom Vans, Thermite Bomb, New MG gun and More
The ability to dress up as Police officers with fully custom suits, Ski Masks, ties, accessory gloves, new hairstyle (with several dye colours) and tattoos, as well as using fully customised vans are among the top wishes for Heist DLC.
Besides, gamers are also yearning for advanced weaponry such as Thermite Bomb and a new MG gun for Heist missions.
Flame Thrower, Chainsaw and the Ultimate 6-star Wanted Level
Next up in the list are a couple of Close Quarter Combat (CQC) weapons: Flame Thrower and Chainsaw, which come handy for getaways especially after a big bank heist in GTA Online.
Furthermore, a six-star wanted level after a Heist could make your getaway even more challenging and interesting with helicopters, jets, tanks and patrol cars chasing down your trail amid the traffic-packed streets of Los Santos and Blaine County.
Cops Chasing on Foot and Handcuffing
It would be a great surprise if cops could chase you down by foot and handcuff you, whenever you abandon your vehicle on the street and try to escape through narrow street lanes in GTA 5.
Besides, if the cops could make you lose your money, weapons and illegal possessions after arresting you based on your criminal record, it would be an interesting change to the fast-aging game in GTA Online.
Disguise as Cop, Firefighter and More in GTA Online
The ability to disguise as Cop, Firefighter or some undercover agent would be a great addition to GTA Online as it adds a new dimension of foreplay, deceit and chaos into the crime infested world of GTA 5.
New Car Modifications and Special Heist Vehicles
The ability to add bullet proof armour and window glass to your car would be an awesome treat, given the deadly cop chases with Heist missions and bank robberies in GTA Online.
FIB Crew Recruitment and Profile Statistics
Another interesting addition would be the ability to evaluate a player for FIB crew recruitment based on his profile such as Max Health, Accuracy, Special Ability and Weapon of Choice.
Longer Heist Missions
Avid GTA 5 gamers are craving for longer Heist missions with bonus optional missions instead of a regular 10 minute session, which becomes very predictable after a couple of outings.
Billion Dollar Payouts and Easy 5 Minute Heist Missions
Contrary to some GTA 5 gamers, most gamers would yearn for billion dollar payouts through a Heist mission that lasts just under 5 minutes, as the basic purpose of doing Heists would be to earn quick money rather than just being contempt with the replay value of such missions.
A billion dollar payout definitely seems a bit dicey as Rockstar is unlikely to make such an offering with its Heist missions as Shark Cards could go unsold or lose their demand in GTA Online.
© Copyright IBTimes 2023. All rights reserved.