GTA 5 Online: Players Use Gravity Propelled Human Bullet as Lethal Weapon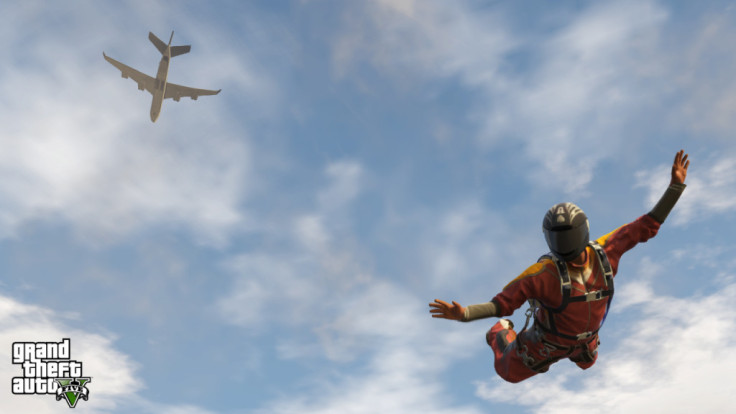 GTA 5 Online has been immensely successful, thanks to its open world gameplay with hundreds of new avenues and hidden secrets waiting to be explored.
Discerning GTA gamers have now unearthed new ways of killing each other. One such potentially lethal weapon is disguised in the form of gravity propelled human bullet (human body) which takes precise timing and enough practice as a skydiver to ensure landing exactly on the designated target.
Though it may not be the most precise way to kill someone, it still gets the job done anyways. As some players have admittedly got into the act of blowing up a car with precise landing on its top, the process of killing your online buddies doesn't get any funnier than this.
Quite sadly, the jump kill stunts do not award any credit for performing the act. But, that does not stop curious fans from exploring new tactics to take out their unsuspecting enemies, as the effort is found to cause lethal damage to vehicles and eventually blow them up for an explosive damage to all humans standing nearby.
Quite hilariously, several gamers have been exploiting this glitch in GTA 5 Online mode that allows skydivers to jump kill their targets using the game's highly accommodating ragdoll physics.
Check out some amazing stunt jumps from skydivers using helicopters and planes, in the video below:
The folks behind this creation have promised to showcase more of their skills in the near future, as they plan to improvise on their stunt jumping and landing accuracy.
Its creator admits on Reddit that it was lots of fun creating such stunt videos in GTA 5 Online. Explaining their hard earned accomplishment, the creator had this to say:
"We made a Team Deathmatch for next time, Each time the divers died they had to get a new helicopter and fly over so it took a few minutes so next time I should have more successful hits and We are going to set up more things to hit."
The creator of this video seems to have acquired the necessary gear from the Valentine's Day Massacre collection which includes a bunch of 1920's themed attire with suits, flapper dresses and Tommy guns.
Those looking for some action should definitely check out the GTA 5 remake of The Purge: Anarchy trailer from avid GTA fans.
© Copyright IBTimes 2023. All rights reserved.