There is some good news for Xbox 360 users of GTA 5 as the internet is abuzz with fresh news of a special bonus DLC in the making for the Microsoft console.
As discerning tipster iCrazyTeddy points out, some exclusive DLC content is reportedly in the works for the Xbox 360, according to a recent tweet (see screenshot below) from official Xbox Live Rewards Twitter handle which reads: "GTA V fans, we've got a special offer coming soon that is just for you!"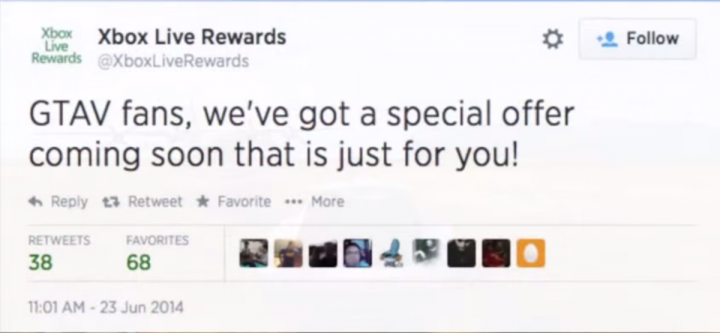 As iCrazyTeddy admits, the image has been obtained through one of his closest childhood buddies via Twitter.
The tipster clarifies that the tweet has been deleted since the leak started making waves on the internet. Besides, it is not yet known if it was an accidental leak from official sources or a deliberate prank played on unsuspecting gamers by someone using a fake or hacked Twitter account.
However, the Twitter handle used to leak the information seems to be authentic and hence the possibility of Xbox 360 consoles receiving some exclusive DLC content along the lines of PS4 cannot be ruled out.
Earlier, Sony's PS4 was rumoured to get an exclusive DLC at the time of releasing the re-mastered edition of GTA 5, following a recent interview with the company's official sources.
The report suggests that Sony struck an exclusive partnership with Rockstar Games to facilitate special DLC content and limited edition stuff for the latest PlayStation console (PS4), which is expected once the re-mastered edition of GTA 5 comes out in September.
As such a move could trigger a negative reaction among the Xbox 360 fans of GTA 5, it seems Rockstar might have special plans for Microsoft-based console users as well.
It is not yet clear if the alleged DLC content would include exclusive giveaways, freebies or some actual gameplay content as the details are very scarce at the moment.
Rockstar has not yet officially acknowledged or confirmed the legitimacy of these claims and hence GTA 5 gamers should take these rumours with a pinch of salt.