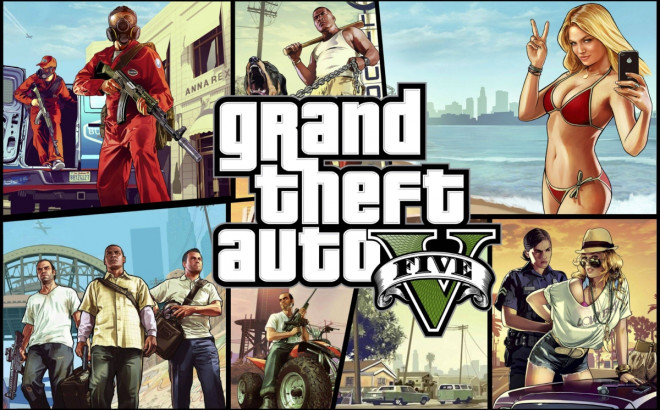 News of GTA 5 PC release re-enters the spotlight, as fresh rumours of a leaked release date for the platform emerges online.
The game's release date information was first spotted online by a NeoGAF forum member, Metalmarc, through a game listing obtained from the Czech retail website, SuperGamer.cz. According to GameRant, the listing suggests that game will arrive on PC, PS4 and Xbox One with a tentative release date of 13 June, 2014.
Though Rockstar had recently denied any possibility of releasing the game on next-gen consoles (PS4 and Xbox One), it did not divulge any information relating to the GTA 5 PC release. Furthermore, recently leaked bug-log reports of an alleged PC port could actually hint that the game is still under development.
Earlier, several European retail outlets had listed the game including the UK- based retailer Elgiganten, Amazon France and the popular Brazilian retailer Nuveem. Meanwhile, Amazon Germany continues to display the PC version of GTA 5 on pre-orders, detailing the product availability for both Vista and Windows 7.
More GTA 5 Story-Mode DLCs Coming?
In related news, Take-Two Interactive (Rockstar's parent company) is expected to announce a few DLCs for the game's story mode in the coming months.
Though Take-Two did not divulge any details about the DLC release date at the company's earnings call, it just said: "Big plans for substantial story-driven add-on content in 2014."
"More to say about this in the coming months," added the game publisher on behalf of Rockstar.
The T2 president Karl Slatoff's response to the PC release date query at the company earnings also seemed a bit mysterious:
"At this point there's really nothing for us to say about that," Slatoff said.
Meanwhile, curious gamers have begun unearthing and deciphering every piece of console game code to unravel the details of a potential future DLC in story mode. One such GTA forum user has discovered some details leading to the game executable that links to Assassination missions with new special abilities, more in-game phone apps and a new set of weapons.
With the launch rumours changing to imminent pre-orders, the GTA 5 PC release seems to be on its way. But, its exact release and announcement dates still remain under wraps.