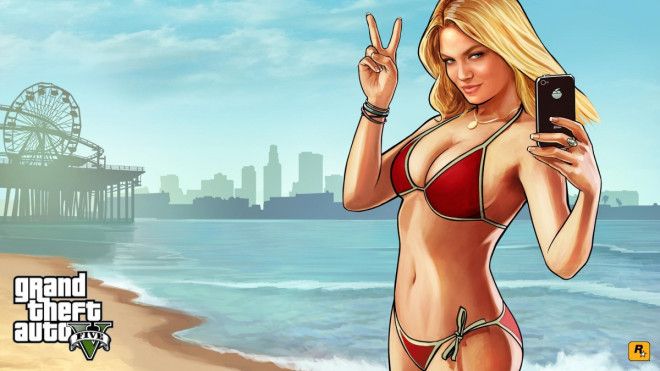 Discerning GTA 5 YouTubers have recently unearthed some interesting information about Space, Rockets and Moon Landing DLCs through the game code in GTA online.
One such tipster named 'zdoubletrouble' has posted the screenshot of the leaked game code on Twitter, which reveals the existence of GTA 5 scripts linked to Space, Rockets and Moon Landing DLCs. The tipster is known to have a proven track record in predicting the future GTA 5 and GTA Online updates with precision.
Check out the screenshot (below) of the leaked game code for said DLCs posted by the tipster on Twitter: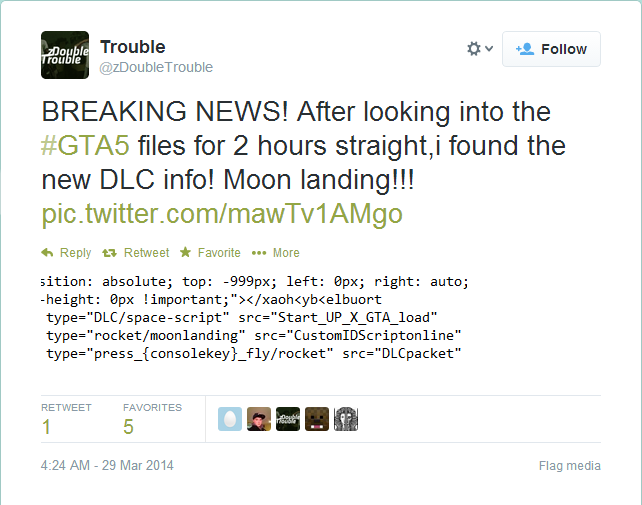 Consequently, several GTA 5 forum readers have posted interesting comments showing mixed reactions regarding the legitimacy of the screenshot. While some readers agree that the screenshot seems legit, a few others have been accusing that it is a fake.
What do you think? Here is an excerpt of interesting comments from avid GTA fans:
"Rockstar's turning GTA into a Saints Row game." - Vanto
Responding to Vanto, TensaZangetsu says: "Yeah no kiddin'. First aliens, and now this bulltrash?"
Disagreeing with Vanto, sibs44 says: "Not really. This is probably a reference to the whole "Moon landing was faked by Hollywood" conspiracy. So, I believe it's fitting."
"If that's true, then holy sh*t, this sounds f*cking awesome. Moon Landing, I mean if we really go to space or better moon in the upcoming substantial DLC. I mean that would be just AMAZING! Edit: I've heard it's fake :(" - Emmi
"So aliens are gonna invade then at some point we visit the moon to take there ass out? LMFAOOOO ROCKSTARR" - InfernoV
"It could just be a deliberately misleading codename. There's a good chance that Rockstar are savvy to this kind of thing now." - RandomNoun
"After theNGclan, I don't trust leaked coding anymore." -WildBrick142
"Early April Fools joke. People, don't be so gullible." - Lee Everett
"the moonlanding code could be code word for "taking a sh*t"..... like a DLC for us as characters to use the toilet facilities.... maybe customise toilets etc." - K20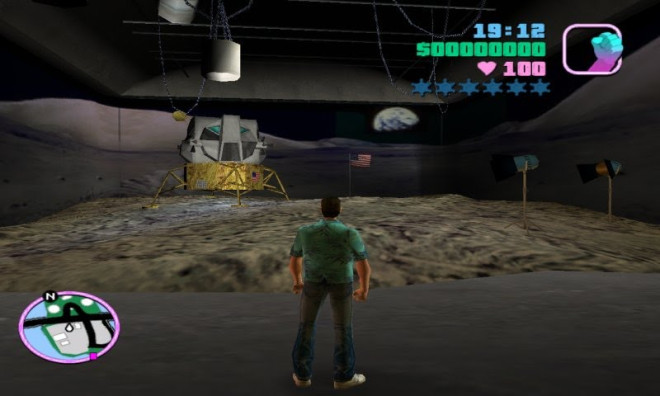 "If it an homage to a 2002 game (Vice City) which is 4 years older than the Saints Row Franchise then it cool, afterall the Aliens were Michael's Hallucinations (which is realistic) and known as nightmare. OT:I dotjbt it,it fake or an Hoax.btw San Andreas (2004) which predates the Saints Row franchise had some myths and alien eastereggs so that same with V afterall both game are set it the state of San Andreas regardless of their Universes." - Blood-Is-in-Diamond
"Please tell me that this is fake..." - tikhung01
Responding to tikhung01's query, Blood-Is-in-Diamond clarifies: "Wait it actually fake,why? because i read an article about a rumoured trademark "Hangar 13" so this code is also fake and btw if it was real it will be non-canon to the main storyline and i am sure it will be an hallucination aswell :p or it definitely for GTAO which is a separate entity to V and has it own universe."
Another avid GTA fan has posted a YouTube video, commenting on the same leaked game code for the said DLCs. Watch the video below: