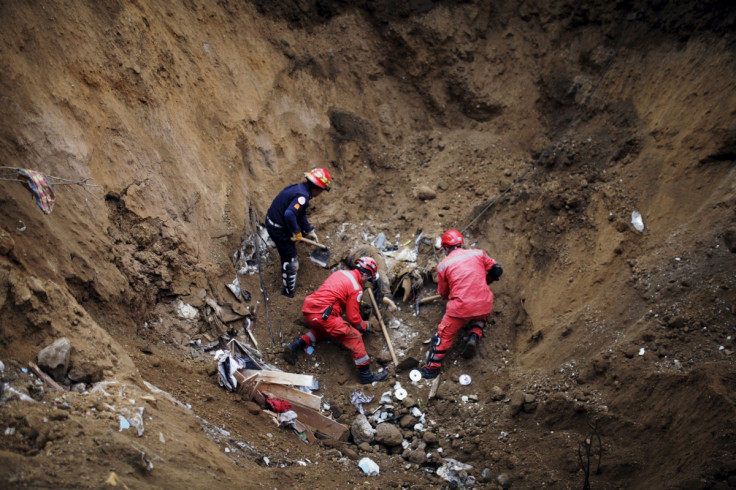 The death toll in the massive mudslide in Guatemala is likely to climb from dozens to hundreds as hopes for finding survivors faded two days after the disaster struck. At least 85 people have been confirmed dead so far in the mudslide which struck the town of El Cambray near capital, Guatemala City.
"The figure we are using as potentially missing -- and I want to emphasise that this is an estimate -- is of 600 people missing," Alejandro Maldonado, national coordinator for disaster reduction, said. He added that many residents in the area did not heed prior evacuation warnings. The mudslide-stricken town is located about 16kms from the capital. At least three 17 children including newborns were among the dead.
Sergio Cabanas, senior official with the disaster agency, has expressed doubts whether there will be any more survivors: "But we have enough hope to keep looking, even if just one more person gets out alive."
Distraught family members of the people unaccounted for continue to shovel the mud alongside rescue workers in the search for either survivors or at least their bodies. "I don't hope to find him [my brother] alive, but I do hope to find his body and bury him. I have to bury him, I can't leave him there," 18-year-old Gaby Ramirez was quoted as saying by Reuters.
Tonnes of earth and rock began to roll down from the hillside, following incessant rains, covering almost the entire town. If the number of casualties continues to rise, the mudslide would turn out to be one of the worst natural disasters in Guatemala in recent years.