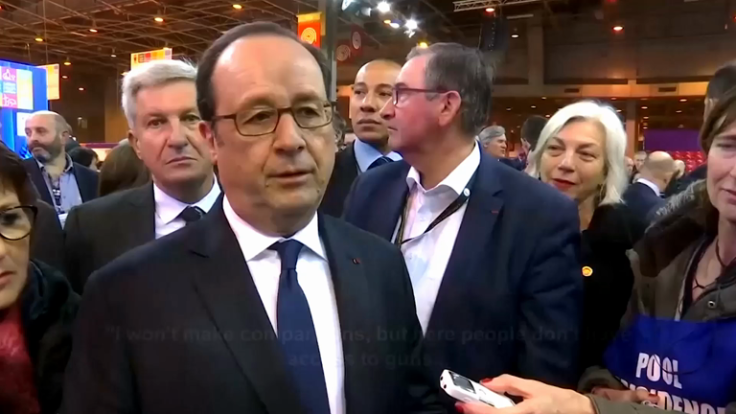 Updated at 10pm: Two people have been accidentally shot by a police sniper employed to protect French President Francois Hollande.
The French leader was speaking at an event for the opening of a Paris-Bordeaux high-speed train line in Villognon, in the department of Charente, when the gunshot interrupted his speech.
The two injured were a waiter who was wounded in the thigh and an employee of the train company who was injured in the calf, according to local media reports.
Hollande, whose approval rating is so low he bowed out of presidential elections, was heard saying "I hope it's nothing serious, probably not," as a moment of panic swept the marquee where he was speaking.
The president later visited the two victims, whose injuries were not life-threatening.
According to local news outlets, the shot came from a French police unit known as the Gendarmarie entrusted to protect Hollande.
The marksmen's safety was reportedly off and the shot was inadvertently fired when the sniper changed position.
The sniper was said to be 100m away on a nearby rooftop as Hollande delivered his speech from the marquee.
After the shot was fired, it pierced the canvas of the tent before it is said to have grazed one person before lodging in the other.
French police confirmed they have launched an official investigation into the incident.
The country has been under a state of emergency since November 2015 and the Paris Attacks that killed 130 people. Islamic State (Isis) claimed responsibility for the attack.
Under the state of emergency police have been given extended powers of search and arrest. Security forces have been deployed at high-profile 'soft targets' such as the Louvre, where French authorities fear an attack on civilians.