The son of Osama bin Laden has called on Muslims across the world to avenge the death of his father at the hands of the US.
Hamza bin Laden, the new spokesperson for terror group Al-Qaeda, made the comment days after the CIA released thousands of files recovered during a raid at bin Laden's compound in Abbottabad that culminated in the death of the terrorist in 2011.
When Osama bin Laden headed Al-Qaeda, the group was held responsible for the 9/11 attacks that killed nearly 3,000 people in the US in 2001.
Al-Qaeda has now released a recording in which Hamza praised his father for his efforts to "revive the spirit of Jihad", defeat the Soviet Union and "rub America's nose in dust and strike at its very heart", according to a translation by SITE intelligence group, which monitors terrorist activities.
Hamza, believed to be around 28 years old, invited Muslim scholars to emulate his father, who he said "was able to revive the spirit of honour, freedom, and glory in the individual Muslim" and dedicated his youth "to jihad".
"He taught humanity a lesson in rebellion against tyrants in an age in which there was no dearth of those willing to kneel down to and prostrate before the White House," Hamza said.
"It is most appropriate for Muslims to present him in the true light, as an exemplary and symbolic leader, and a legend among their contemporary legends."
Hamza then called on Muslims "generally to take revenge from the Americans, the murderers of the Shaykh (may Allah have mercy on him), specifically from those who participated in this heinous crime."
Hamza's calls to fellow Muslims around the world comes as the Islamic State (Isis) terror group is losing territories in Iraq and Syria, where the group had established an Islamic Caliphate.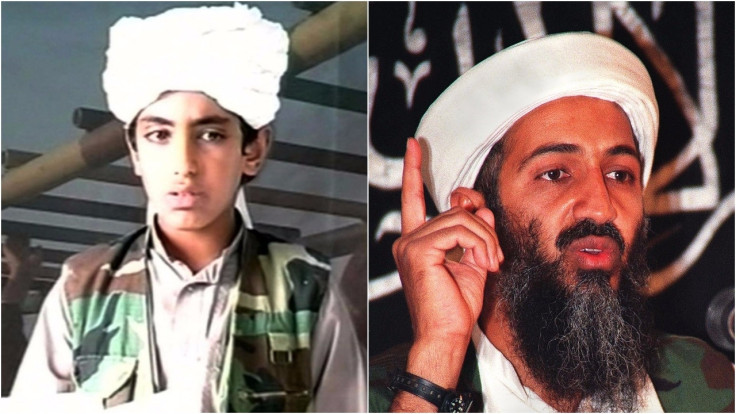 Some analysts believe that Al-Qaeda, a rival of Isis, is seizing the moment to boost recruitment and strengthen its position.
"Hamza may not be the spitting image of his father's character in terms of experience and personality, but he has the blood lineage in his favour. His name strikes fear in the West and his call for jihad against the US and their allies is well-timed," counter-terrorism expert David Otto told IBTimes UK.
"As ISIL collapses and fails to keep hold of the 'promised land' in Raqqa and Mosul, Al-Qaeda is resuscitated from the ruins of ISIL
"Despite the difference in strategy between ISIL and Al-Qaeda, the call by Hamza could be the answer that frustrated ISIL fighters have been waiting for. Ideologies do not change , they seek for alternative avenues. Al-Qaeda could replace ISIL while they recover from the displacement.
"ISIL has been and continues to be a nightmare despite its demise, with Al-Qaeda, back in the scene in full speed.Terrorist attacks will become more disorganised and competitive," Otto concluded.