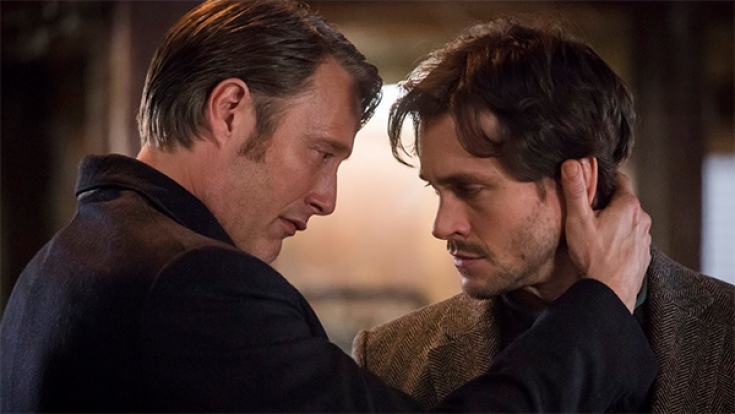 Critically acclaimed psychological thriller series Hannibal was cancelled after 3 seasons by NBC back in 2015 due to low viewership, but showrunner Bryan Fuller is not giving up hope for season 4 yet.
Fuller recently revealed to the podcast Post Mortem with Mick Garris that he's had talks with both stars as well as the show's former executive producer Martha De Laurentiis about a potential Season 4.
He explained, "I have conversations with Martha De Laurentiis... I have conversations with Mads and Hugh. We're are all excited about the prospect of returning to the story. There's some hurdles to get through... [But] I just had a great idea for Season 4."
Teasing Graham and Lector's love story he added, "There's an interesting next chapter in the relationship between Will Graham and Hannibal Lecter that would be fascinating to unpack. I've shared it with the gentlemen and they're both keen on it."
The final scene of the Hannibal season 3, led many fans to believe that Lecter and Graham are a gay couple. Fuller confirmed the rumours and said, "Yes. Just having gone there, after all of that, would have been a lot of fun. I still feel like the most interesting chapter of Will Graham's life is yet to be told."
This is not the first time Fuller has given fans hopes about Hannibal's renewal. During the 2016 Saturn Awards, he was quoted as saying, "The cast is game, I'm game, it's just a matter of finding the right time where everybody's schedules sync up, but I would love to continue to tell the story with Hugh Dancy and Mads Mikkelsen."
The 47-year-old filmmaker went on to add, "August 2017 is when we can actually start talking about it. That's when we would have to see what the rights are for the character and for the story, and see who's interested and how we get it done. I have the story, and the cast is excited for the story, so we're ready to go if somebody wants to go."