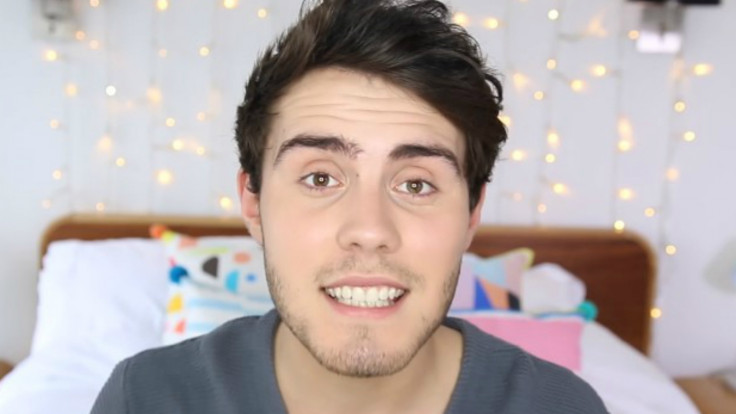 Alfie Deyes, better known as PointlessBlog, will be bombarded with messages on social media today (17 September 2016) as he celebrates his 23rd birthday. The YouTuber has amassed a staggering 10.5 million subscribers across his three channels, making Deyes one of the most influential online stars in the UK.
With millions of fans following his every move and watching his daily vlogs, Deyes has transformed from a geeky 15-year-old with a hobby to a bonafide new-age superstar.
Addressing his celebrity status in an interview with his vlogger friend Jim Chapman in the BBC Three documentary Rise Of The Superstar Vloggers, Deyes explained: "We are experiencing a new kind of fame, we are well-known on the internet but in terms of traditional media we are not known at all, it is interesting to see how people react to that.
"There are a lot of people who are scared of what we do. There are others who are excited as we are people who have come out of nowhere and have these massively engaged audiences. We are making videos in our bedrooms and getting crazy views."
In addition to his main channel, Deyes also uploads to his vlogging and games channels, which give fans insight into his everyday antics and silly challenges. In celebration of Deyes' 23rd birthday, IBTimes UK takes a look back at highlights from the vlogger's last year.
Five million subscribers
In March 2016, Deyes reached the milestone of five million subscribers on his main channel PointlessBlog. Celebrating the achievement, Deyes told viewers in a video titled My YouTube Story 2016: "When I started off making YouTube videos, I didn't even think I'd ever get 100 or 1,000 subscribers.
"Thank you so much for all of the support over the last nearly seven years. I honestly didn't think people would care about watch these little videos of mine and to have five million subscribers on this one channel alone, that is something I can not even thank you enough for."
Madame Tussauds
Deyes and his vlogger girlfriend Zoella, real name Zoe Sugg, caused quite the storm when they were made into waxwork figures at London's world-famous Madame Tussauds. Reacting to his induction, Deyes told his viewers: "I've always gone to so many attractions, museums and experiences, and now somehow I'm in one, I'm part of the attraction. You can go and see Kim Kardashian, the Queen, Barack Obama and then little old me. Crazy."
Passing his driving test
Zoella got tired of driving her boyfriend around so Deyes finally decided to take his driving test this year and passed. Explaining why it took him so long, the vlogger said: "It's just one of those things that I never really got round to doing because when all my friends were learning to drive, I was travelling and making YouTube videos or writing books. I've been very busy over the last few years and dedicating time to learn to drive has been very difficult. I booked an intensive driving course."
The Scrapbook Of My Life
After the success of his previous Pointless Books, it only made sense that Deyes released his third in March 2016. The YouTuber insists that The Scrapbook Of My Life is not an autobiography but it does detail his life from birth through the school years to his online fame.
Happy 23rd birthday, Alfie Deyes!