Harper Beckham is a chip (over the keeper) off the block, if recent pictures of the three-year old are anything to go by.
Her father, legendary football star David Beckham couldn't hide his pride as he posted a picture of his daughter scoring a goal in the back garden of the family's London home.
The toddler looked the part donning a pair of tiny pink football boots and with her hair in plaits as she prepared to shoot the ball in the back of the net during a kick around with her legendary footballer dad.
Posting the snap on his Instagram page on Friday (5 June) morning, the former Manchester United and England star compared her to top American football star, Mia Hamm. Hinting at a possible future career for the toddler, he said: "Mia Hamm eat your heart out Harper Seven taking lessons from her brothers ( oh and her dad )." (sic)
While her older brothers Brooklyn, 16, Romeo, 12, and Cruz, 10, have all followed in their father's footsteps and inherited a passion for the beautiful game, it seems little Harper is not one to be left out.
Victoria has ruled it offside
And while it's music to David's ears, her fashion designer mother Victoria Beckham said the revelation that the only other girl in the family was as football mad as the rest of them, was a "dagger into my heart."
Speaking as part of a Fashion Icons talk with Fern Mallis in New York on Wednesday, she revealed: "Harper loves football. It's like a dagger going into my heart! She's got little shoes and a little football shirt and she runs around in the garden with her brothers. So as much as she is girly, she's a tomboy as well."
Victoria can take some comfort in the fact that Harper has also inherited her mother's love of fashion. The youngster who was earlier spotted at one of her mother's runway shows with her brothers has demonstrated her own style and a flair for a fashion.
David told Glamour magazine: "Harper's wearing Victoria's heels every single day. She walks into the house and puts her ballerina outfit on and a pair of heels. She's very funny because she also wears the boys' football boots."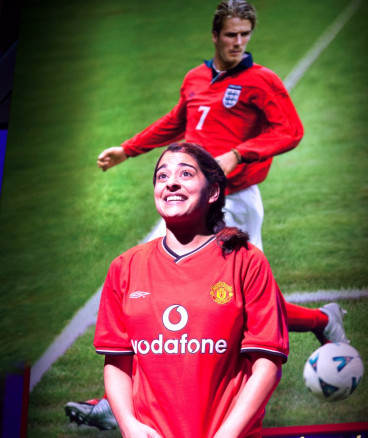 The news of Harper's love of football might explain why David Beckham is so keen to take his football-mad family to see Bend It like Beckham – The Musical. Director Gurinder Chadha has reworked the much-loved movie, about a Punjabi girl from Southall who dreams of becoming a footballer like her idol David Beckham, into a spectacular stage musical in London's west end.
In a recent interview with IBTimesUK, Chadha revealed that David was dying to bring his family to see the production.
"David Beckham is very, very excited to come and see the show. Very excited," she explained.
"But we're holding him back yet. Till we've got it absolutely perfect. Especially as a family man and it's such a family show. And of course now he's father to a little girl, so the story might hit home to him even more."
Indeed, Gurinder's Chadha's stage show might well put ideas into little Harper's head and unwittingly seal the fate for another football star of the future named Beckham.
Victoria might just want to look away now.
Bend It Like Beckham- The Musical is now playing at the Phoenix Theatre.