Police have released more images of the horrific injuries suffered by a 92-year-old woman who was dragged along the ground by a violent, hooded robber in east London. The recently-widowed pensioner, who wants to remain anonymous, suffered severe bruising all over her body during the attack in Hackney on 27 June.
Police said a doctor reacted with shock when he discovered the extent of her injuries, which also included cracked ribs and a head injury. A video of the disturbing broad-daylight assault shows the assailant follow the victim as she walks through an alleyway off Hoxton Street.
He can then be seen grabbing her handbag and trying to yank it away, pulling the screaming woman to the ground. She is dragged several feet along the concrete floor as she desperately tries to keep hold of her valuables.
Police say the victim was in so much pain she eventually let go, with her attacker fleeing into an alleyway and then north up Hoxton Street.
The incident happened at around 2.40pm near to The Lawson Practice GP surgery in Nuttall Street. Having also recently lost her husband of nearly 70 years, the woman is now said to be "terrified of leaving the house" and has lost her independence.
On Tuesday 4 July, police named Sanchez Edwards, 28, as the man wanted in connection with the attack. He is described as a dark skinned black male, 5ft 9ins, with short black hair, medium build and a black beard.
Police say Edwards – a "dangerous" paranoid schizophrenic with a history of drug use – was a patient at the John Howard Centre, a medium-secure psychiatric facility in Hackney. He failed to return from unescorted leave from the centre on 17 May, detectives said.
He had been admitted to the centre on in January last year and later convicted and sentenced to an unrestricted hospital order under Section 37 of the Mental Health Act for an assault against a member of hospital staff.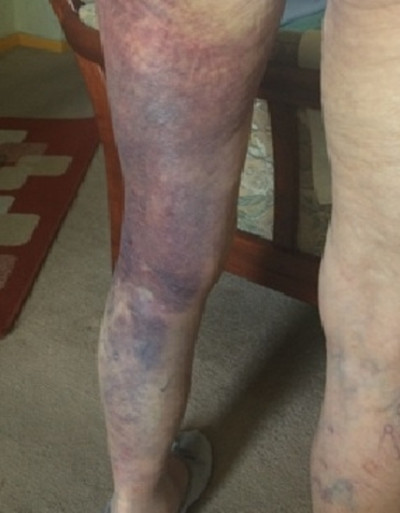 Detective Inspector Paul Ridley said: "The injuries to the victim are alarming and harrowing, and in addition to pursuing Edwards for this violent robbery and absconding from the mental health unit, he has also inflicted serious grievous bodily harm to the victim.
"I have been in contact with the victim's family who have been closely supporting her. The lady remains extremely distraught, will not leave the house as she is terrified and has re-occurring nightmares of her ordeal. She finds it difficult to sleep particularly due to the excruciating pain of her injuries.
"I need to reiterate my warning about Sanchez Edwards. He is a violent, dangerous and unpredictable individual. Please do not approach him, but call 999 if seen. The further time that elapses, the heightened risk he is to members of the public as he becomes increasingly desperate. He may commit offences to fuel his drug addiction.
"You will notice from the recent images that he is no longer wearing the blue jacket which was seen in the robbery, but dark clothing, perhaps in a bid to evade detection. He is likely to be travelling on buses and underground trains across London, so please remain highly vigilant."
In addition to tracing Edwards, police are also searching for the victim's multi-coloured striped bag which was taken during the robbery. This contained £100, keys belonging to the victim, store loyalty cards and a 'Virgin' black mobile phone handset.
"This may have been discarded near the scene of the robbery and officers need the public to contact them if recovered. The contents are likely to be near the scene of the attack," a Met Police spokesman said.
---
Anyone with details of Sanchez Edwards whereabouts is asked to contact Hackney CID via 101 or via Twitter @metcc quoting operation name Brunton. To give information anonymously call Crimestoppers on 0800 555 111 or visit crimestoppers-uk.org.